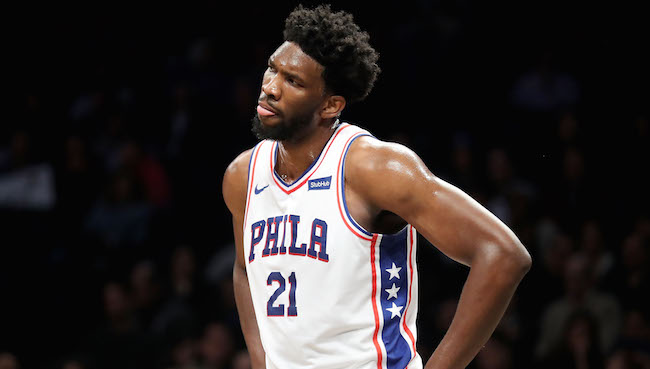 The Philadelphia 76ers are the darlings of the NBA this season, and for very good reason. The Sixers have a unique group of young, exciting talent that is putting it all together on the court in a way almost no one expected to happen this quickly.
Joel Embiid and Ben Simmons have happily stepped into the starring roles, while Dario Saric and Robert Covington fill key secondary roles to give Philadelphia the necessary balance inside and out. Something that's impossible not to notice when watching the Sixers is just how much fun they appear to be having playing professional basketball with each other. That closeness is the product of coach Brett Brown forcing the players to get to know each other and each other's cultures — they have a wildly diverse roster — through various team breakfasts over the years.
ESPN's Kevin Arnovitz did a deep dive into Philadelphia's unique team-building exercise in which about once a month a different player on the roster has to put together a Powerpoint presentation, complete with video clips, on anything they want to and present to the team at breakfast. Arnovitz highlights some of the best from over the years, from the strange like J.J. Redick presenting on whether we're all living in a simulation to the personal, like Dario Saric presenting on the Balkan Conflict and growing up in that world.

However, the one that sticks in the minds of everyone on the Sixers is Robert Covington's presentation on his love for snakes, that included a surprise show-and-tell portion at the end that send Joel Embiid running in fear.
As he concluded the presentation, Covington reached to collect his backpack.

"It kind of threw everyone for a loop," Covington says. "Nobody knew it was in there. I reached for my bag at the end of the presentation and said, 'Everyone, I'd like to introduce you to Max.'"

"The whole room just scattered," Covington says. "Joel was the first one."

Max is Covington's bumblebee python, nearly 4 feet in length. And as Covington pulled him out of his backpack, Embiid's 7-foot frame darted across the dining room, hiding behind the serving counter area, a healthy distance from the nonvenomous snake. Covington offered to let teammates hold and touch the snake, but received no takers apart from a few junior members of the front office.

"[Embiid said,] 'Don't bring that thing near me, or I'll kill it!'" Covington says. "He repeated it over and over again, 'I don't like snakes. I don't like snakes. I don't like snakes.'"

There are two types of people in this world, those who like snakes and those who are terrified of them. There is almost no in between and the latter group far outnumbers the former. So, this reaction comes as little surprise but also presents a fairly hilarious visual of Embiid not only running and hiding but making sure Covington doesn't think this is a time for testing him, insisting he'll kill it if he brings it towards him.
Luckily for the Sixers, they have all recovered from Covington's surprise snake guest at breakfast and it has been part of what's brought them together. Arnovitz notes that any time Covington has a bag nearby it's cause for some concern from Embiid and others, but the coaches had some fun with it by naming one of their transition defense drills the "Max" because it involves everyone scrambling to find their assignments.