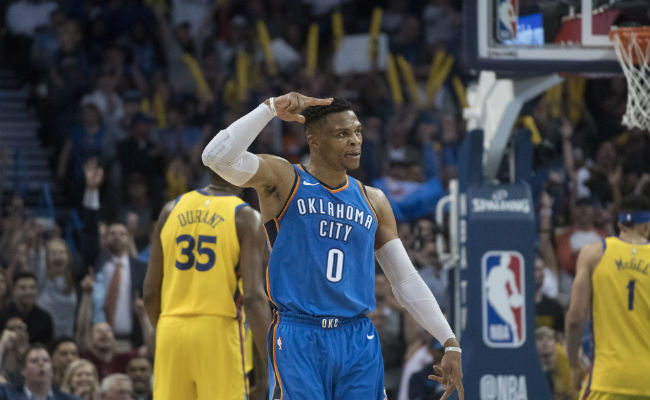 Russell Westbrook has been a big supporter of education during his time in the NBA, and on Saturday, he offered his support to teachers on strike in the state of Oklahoma.
A 5-day teacher' strike is expected to stretch into its second week on Monday as the state of Oklahoma's education system has slowed to a halt over compensation battles for unionized teachers. The state has reportedly offered some concessions to teachers, who are seeking a pay raise and more funding for schools. It's the second time teachers have "walked out" in Oklahoma this year, as strikes are, of course, illegal in the state of Oklahoma.
Westbrook was asked about the strike on Saturday afternoon and offered his support for the teachers' quest to get more funding for area schools, saying he's "all in."
"Education is very very important to me and the teachers are stand up for something I obviously believe in, that's helping the kids get a better education," Westbrook said. "Obviously them getting paid more, more funding for the schools is very, very important. So I'm definitely all in for that. I believe education is key to a lot of different things that's going on in society."
This isn't exactly out of character for Westbrook, he himself is in a union and has been a huge advocate for education in Oklahoma City since the Thunder moved to town. One of the most charming Westbrook stories, in fact, comes from a visit he made to schoolchildren in a reading bus where he insisted everyone had their shoes tied properly.