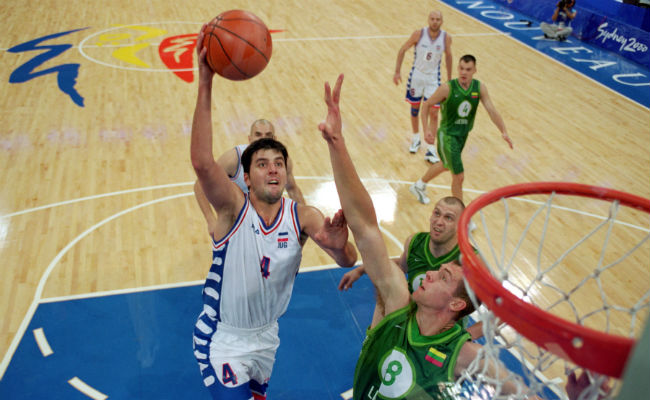 The 51st overall pick in the 1995 NBA Draft is finally free. The Sacramento Kings finally released a player they had the rights to for more than two decades on Friday, a hilarious bit of NBA transaction news that pales in comparison to a potential Kyrie Irving trade but deserves mention on its own.
Dejan Bodiroga was drafted by the Kings late in the second round of the NBA Draft. The Serbian national was drafted with hopes he would come to the NBA and make a big splash, much like fellow Serb Vlade Divac did for that very same Kings team. But now he's just a 44-year-old NBA free agent.
According to Bodiroga's Basketball Reference page, he averaged 16.7 points per game and had a shooting percentage of 56.7 in the Euroleague. Despite the fact that he put up some solid numbers, Bodiroga never came to the NBA. He was, however, an MVP in a Spanish and Greek pro league.
Bodiroga actually played professionally until 2007, so it wasn't absurd of the Kings to hold onto his rights until about a decade ago. Still, it's was great fun for Twitter to make some jokes about the Kings.
As Smith points out, the Kings were once very excited about Bodiroga. But such are the perils of drafting internationals.
Twitter was less forgiving of the missed opportunity, though.
Others thought the Kings gave up on him too soon.
The point is, NBA Twitter is still the best pro sports social media scene out there. Even the offseason is full of jokes.