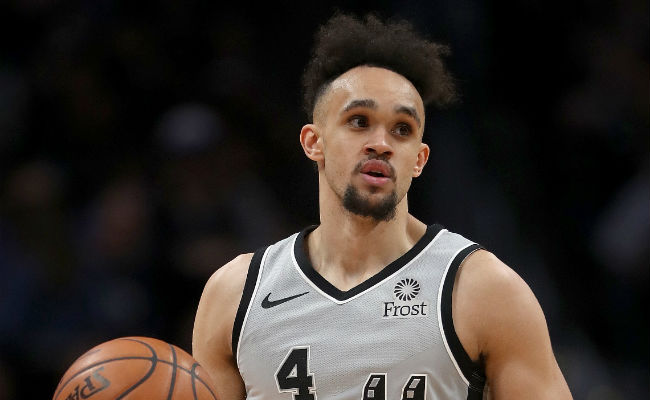 Derrick White performed well in the first two games against the Denver Nuggets, but the San Antonio Spurs guard saved his best work for Game 3. While the contest was competitive for the better part of 48 minutes, White enjoyed arguably the best night of his still-young career and the end result was a 118-108 victory that allowed his team to take a 2-1 series lead.
In the early going, the Spurs scored at will despite a glacial pace, converting 52 percent of their shots with only one turnover in the first quarter. In the center of it all was White, who scored 10 points in the opening period.
Things weren't always breezy for San Antonio on this night, however, and the Nuggets made their biggest push of the evening early in the second quarter. Denver opened with the first 16 (!) points of the quarter, making seven of their first eight shots, and the Spurs were on their heels as a result.

In fact, a three-pointer from Gary Harris pushed Denver's run to 28-9 and gave the Nuggets a 10-point lead midway through the second quarter.
From there, though, White got things going again, matching his career high (regular season included) with 26 points on 11 of 15 shooting before halftime.
The quarter was, by far, the quietest for White, but his teammates picked up the slack, led by DeMar DeRozan. The veteran wing scored 19 points on 7 of 9 shooting in the period, allowing the Spurs to maintain a small advantage.

Then, the dam broke in the fourth quarter, with White and the Spurs putting things away with a 20-7 run to take a 17-point lead.
White continued to cook, continuously building on what was already a wildly impressive performance.

All told, the 24-year-old from Colorado finished with a career-best 36 points (on 15 of 21 shooting) to go along with five rebounds, five assists and three steals. White, who is better known for his impressive defensive acumen, was also his typically effective self on that end of the floor, holding Game 2 hero Jamal Murray in check throughout the night. In short, it was a statement-worthy performance from both player and team and one that was necessary in keying the win.
The Spurs still have plenty of work to do in order to steal an upset victory in the series and, from a roster standpoint, Denver remains the more talented team. Still, San Antonio now holds the series lead with the benefit of home-court advantage and that, combined with their edge in experience, poses quite a challenge to the No. 2 seed as the focus shifts to an all-important Game 4.