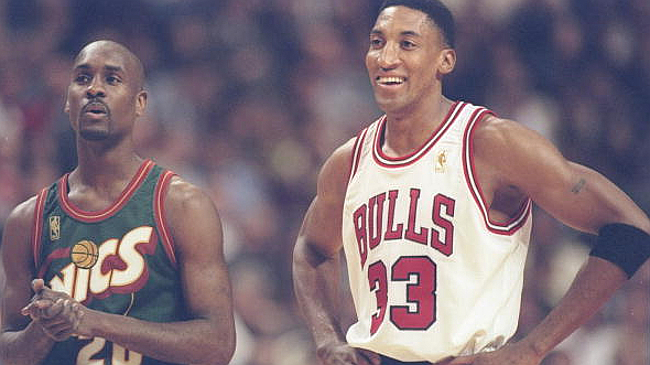 Scottie Pippen was so much more than just the Robin to Michael Jordan's Caped Crusader. He averaged nearly 20 points per game during the Bulls' six championship seasons, but more significantly, he'll go down as one of the best defenders in NBA history. He was named First Team All-Defense an astounding eight times, made the Second Team twice, and led the league in steals during the 1995 season.
He guarded everyone from Magic Johnson, to Gary Payton, to Reggie Miller, and countless others in between. So it was a little surprising when he tweeted a picture of himself on Monday standing alongside another NBA legend whose name rarely comes up when you talk about Pippen's most thrilling head-to-head match-ups.
https://twitter.com/ScottiePippen/status/848944451242401792
They only met in the postseason once, in 1993, and the Bulls swept the Hawks en route to their third consecutive NBA title. Still, these things are always subjective. Remember that time Metta World Peace said that Brandon Roy was the toughest player he ever guarded (and after him some dude from Queensbridge he used to go against on the playground)?
None of this is a slight on Wilkins. The Human Highlight film was a phenomenal offensive player throughout his career, and it's easy to see how his otherworldly athleticism would've given Pippen headaches. Wilkins is one of those guys who sometimes gets overlooked when it comes to the discussion of NBA greats, so it's nice to see him get his due every once and a while.