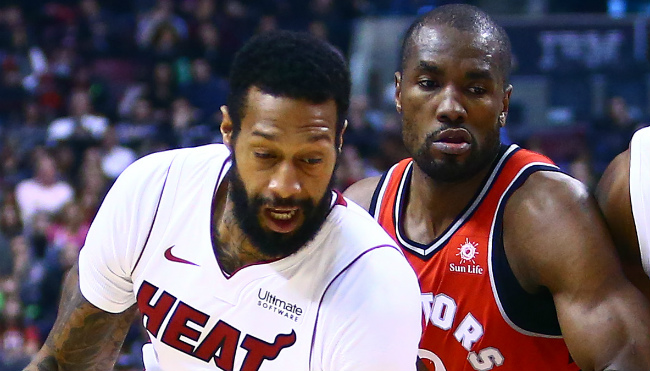 The Miami Heat and the Toronto Raptors played a thriller on Tuesday night, with the Heat coming out on top due to a layup by Wayne Ellington right before the clock hit zero. Beyond its ending, the game was notable due to a pair of incidents involving players on both teams — Serge Ibaka and James Johnson were tossed for throwing punches in the third quarter, and DeMar DeRozan and Goran Dragic got into it after the game ended.
One of those dust ups will lead to those involved missing a game. The NBA announced that Ibaka and Johnson will not play in their respective team's next matchups — Johnson won't play when the team travels to Indiana on Wednesday night, while Ibaka will sit on the sidelines during the Raptors' home game against Cleveland on Thursday.
Johnson issued an apology for the incident, taking full responsibility in noting that it should have been handled very differently and that violence and aggression are never acceptable solutions.

In addition, DeRozan and Dragic will lose a little cash for their disagreement after the game. The Raptors' guard will be fined $25,000, and the Heat guard will lose $10,000.
There are two big lessons to take away from this. The first is that nothing good happens when you decide to get into it with someone. The second, which is far more important, is that the matchups between these two teams on Feb. 13 and April 11 should be interesting.