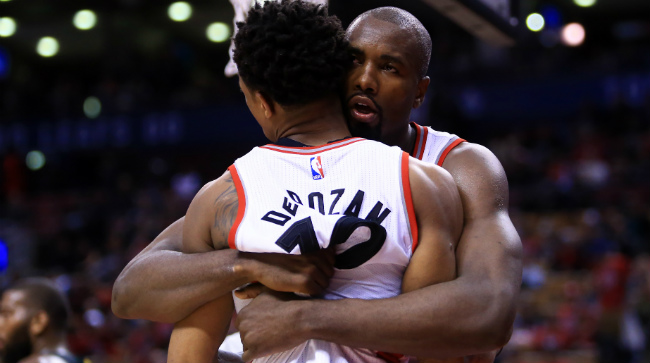 It's fairly common for athletes to hook their teammates up with cool gifts for the holidays. For example, let's head down to Washington, where Wizards star John Wall decided to spend a whole lot of money to give Rolex watches to all of his teammates. It's a super nice gesture, one that Wall didn't have to do, but he did, anyway.
This is the early contender for the best teammate gift that we've seen this holiday season. While gift giving is a form of generosity and kindness that should not be measured from one person to the next, everyone is going to be measured against Wall spending $600,000 on watches.
This is the case in Toronto, a place that already seems a little low on holiday cheer due to the fact that they wish they were playing on Christmas Day. After the Raptors beat Philly on Saturday, 102-86, Wall's gift came up in a lighthearted back-and-forth between Serge Ibaka and DeMar DeRozan.

The two have some back-and-forth about gift giving, with DeRozan said he's not getting anyone any gifts before telling Ibaka he's going to get him a Subway gift card. This made the Raptors' big man mad, which led to him jokingly demanding a trade.
"I don't want to play with you no more, man," Ibaka says. "I'm going to play with John Wall."
Whether this was lighthearted or if it was Ibaka actually getting mad, DeRozan should probably get him something. Even if he doesn't purchase him a Rolex, getting him some type of watch seems like the way to go.