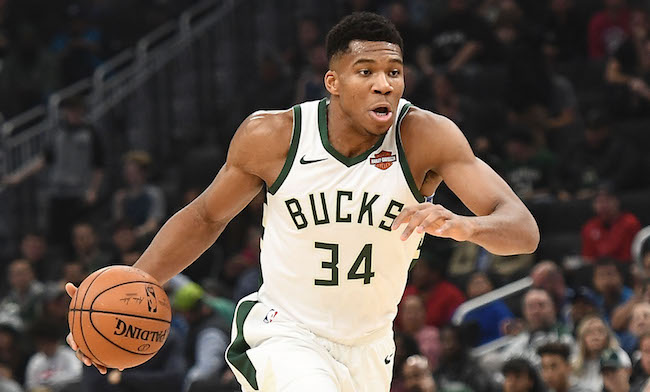 Shaquille O'Neal has been notoriously hard on big men in the NBA since his departure from the league, regularly criticizing their play for not being dominant enough or posting the stat lines they should.
The focal point of much of his criticism over the years has been Dwight Howard, the heir apparent to Shaq in the league, who followed so closely in Shaq's footsteps that he was drafted by the Magic and even took his Superman moniker. O'Neal never appreciated that and never ceded the Superman nickname to Dwight, insisting he was still the NBA's one true Superman — it was all extremely silly.
Shaq is protective of the Superman tag and doles out superlatives for bigs in the NBA selectively. However, the Big Aristotle has a soft spot for Giannis Antetokounmpo, and can't deny the Greek Freak's dominance over the league right now. Shaq went on The Stephen A. Smith Show on Thursday and officially bestowed the Superman nickname on Giannis, citing his unreal abilities and MVP-caliber play.

"You know what, I've never given my name up before, but I'm giving it to him," Shaq said. "He's the new Superman."
Stephen A., naturally, was blown away by this and wants to see Antetokounmpo hit a jumper first, but Shaq noted the way Giannis is dominating at the rim and bullying his way to the basket at all times, despite everyone knowing he's not going to hit a perimeter shot.
Shaq is right. What Antetokounmpo is doing right now is almost unbelievable, shooting 65 percent from two point range, with almost all of that being at the rim, despite the lack of a threat of a three-point shot — his teammates provide that threat and Giannis' development as a passer helps ward off help defenders. Giannis is playing at an MVP level and now he's got a new nickname to go with it, if he wants to take it.