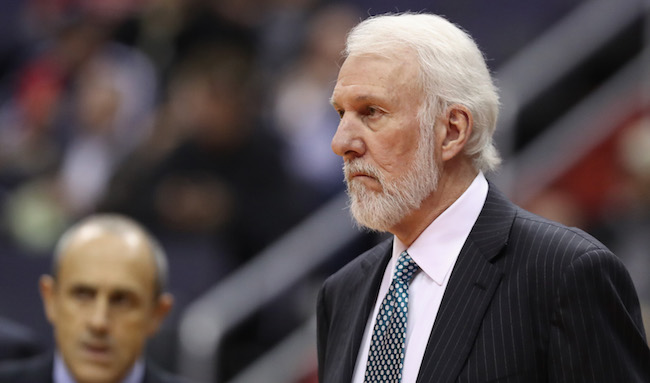 The Spurs and Warriors will meet in San Antonio on Thursday night for Game 3 of their first round series, but few will be thinking about basketball.
The Spurs announced on Wednesday that Erin Popovich, the wife of coach Gregg Popovich, had died following what was reported as an undisclosed extended illness. The NBA world was quick to reach out to the Popovich family and offer their thoughts and condolences, with so many being stunned and saddened by the news.
When the two teams meet on Thursday night, Popovich will not be on the sidelines as he takes a more than understandable leave of absence. His spot will be filled by lead assistant Ettore Messina, and one would expect a tribute of some kind to be made prior to the game.
Messina was considered one of the best coaches in Europe for years before Pop brought him over to the NBA as a top assistant and has garnered interest from the Hornets for their coaching vacancy this season. No matter what happens with the Spurs in Game 3, the prevailing sentiment from both teams and everyone watching around the league will be that of support and love for the Popovich family on Thursday night as they go through such a difficult time.