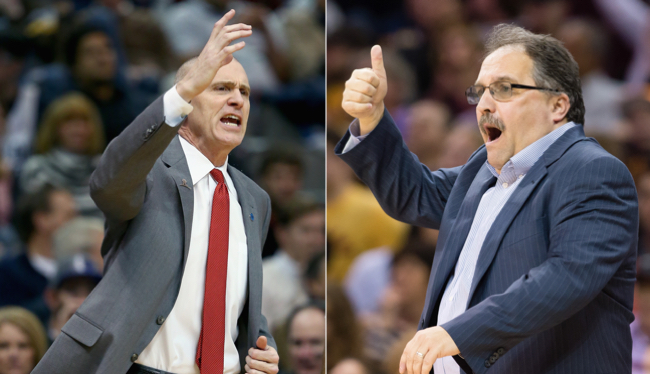 The Cleveland Cavaliers fired David Blatt on Friday, and needless to say, several NBA coaches were less than pleased.
Blatt had the winningest record of any coach in Cavaliers history; he took the team to the NBA Finals in his first year and was 30-11 in his second season before being dismissed. That's only the top record in the Eastern Conference.
While the Cavs suffered a monumental loss to the Warriors in a primetime matchup in Cleveland, it's hard to argue with Blatt's overall results, even in a weaker conference. According to some reports, it was the internal team politics that were more to blame for the firing than anything related to basketball. While the Internet had a field day with the firing, Rick Carlisle, Stan Van Gundy and others, were nowhere near as joyful.
Here's Detroit's coach, by what of Yahoo's Michael Lee, sounding off on Blatt's unceremonious dismissal at the hands of a "crazy" front office.
Rick Carlise, who is the president of the NBA Coaches Association, wasn't to happy about the news, either. He was more than just disheartened by the firing, as he told Tim McMahon of ESPN, he was shamed by the whole thing.
"I'm embarrassed for our league that something like this can happen like this," Carlisle said. "It's just bizarre. … It just leaves you with a bit of an empty feeling, because Blatt's a great guy, and he did a great job there."

[…]

"Teams have the right to make changes, but David Blatt is going to be a highly sought-after coach this summer if and when there are openings, if he chooses to stay," Carlisle said. "After this, you just hope a guy like this is still open to coaching in the NBA."
Carlisle and Van Gundy weren't the only two coaches to sound off on Blatt's firing. Jason Jones of the Sacramento Bee reports that Kings coach George Karl was equally as baffled by Blatt getting the axe.
"Embarrassing, tragedy," Karl said. "It seems like coaches have more ability now to get fired if they win or if they don't exceed expectations. Losing coaches don't get fired. … I'm mystified."
Karl can empathize with Blatt's situation. He was the most successful coach in Denver Nuggets history, leading the team to the playoffs ten years in a row. Yet, somewhat unceremoniously, he was fired after the 2013 season, even though it was the best regular season in the history of the franchise and he won Coach of the Year (coincidentally, Denver's GM, Masai Ujiri, won Executive of the Year that season, too, and left to start the Raptors rebuild that summer).
It's no surprise that Blatt's fellow coaches have his back – that's the standard operating procedure any time a coach gets fired. Regardless of whether or not it was justified, coaches are going to protect their own. To paraphrase an old saying, coaches are hired to get fired, much to the dismay of coaches everywhere. But Blatt's case is a lot different from the usual mid-season termination. That's probably why the three coaches were so outspoken in their anger.
(Sacramento Bee and ESPN)