DeMarre Carroll was traded from the Raptors to the Nets this offseason after two disappointing seasons in Canada. Carroll had injury issues that kept him from being on the floor consistently and Toronto and Carroll both seemed to need to move on from each other. Now in Brooklyn, reunited with Kenny Atkinson who he worked with in Atlanta, Carroll is happier.
While he's happier in Brooklyn, he can't help but keep talking about Toronto and taking shots at his former club. Most recently, Carroll called into question the Raptors' locker room chemistry and the "lack of trust" among teammates that caused them to fail to go farther in the playoffs than they did.
That comment was a topic of conversation on Wednesday's edition of The Jump with Rachel Nichols on ESPN, and her two guests were Stephen Jackson and Paul Pierce. To his credit, Pierce tried to be nice about it, while Captain Jack shook his head in disbelief. And then Pierce turned it over to Jackson who destroyed Carroll, saying that he's not good enough to even have opinions on the matter.

"DeMarre Carroll, why are you even talking? If anyone passes you the ball you should be happy. Play defense. You're Bruce Bowen. Just go in the corner and shoot threes and be happy. You shouldn't even have an input, you're not good! … He's not good enough to have an opinion. He's not. Everybody has a voice in the NBA now."
Nichols and Pierce both stuck up for Carroll as a solid player, at least a bit, but Jackson's point — and even Pierce's point — was clear. They think too many players in the league now think that they're good enough to speak out on other teams' business, even if that is a team they just left.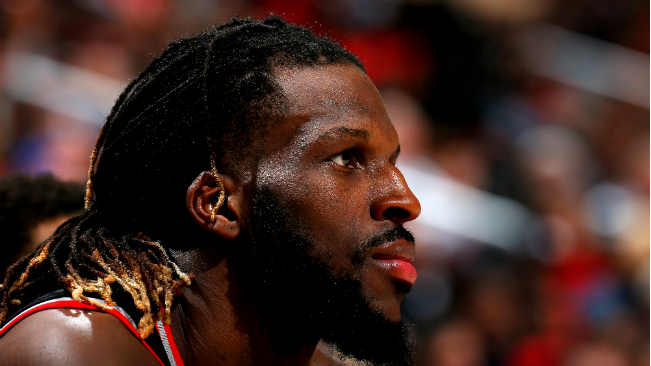 Disgruntled players often air out some dirty laundry when they leave a team, and that rubs certain people around the league the wrong way. Apparently, only good players can get away with talking about locker room issues, because Jackson isn't having any of it from Carroll, who he later noted wasn't someone that could help carry a team to the playoffs.
Jackson is one of the league's all-time tough guys and talkers, but don't be surprised if Carroll — who fancies himself a tough guy as well — has a response for Jackson and for this to become a little bit of a feud.