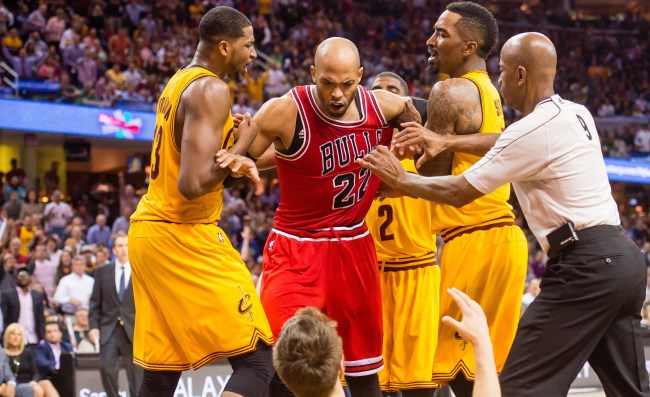 In an otherwise fantastic game between the Chicago Bulls and the Cleveland Cavaliers, ugliness erupted early in the fourth quarter when Taj Gibson appeared to kick out at Matthew Dellavedova while the Cavs guard was lying on the floor:
You can see the immediate reaction from everyone in the arena as they knew something was going down. But what most people didn't see live was that Dellavedova locked his legs around Gibson's leg, prompting Taj's retaliation:
Dellavedova escaped punishment, but Gibson was predictably ejected, and that's when things got really interesting. As he left the court, what appears to be a towel was chucked in Taj's general direction, and the Bulls forward was understandably angry:
It's an event that the NBA's central office is sure to look at very soon, but Gibson has already gone public with his thoughts on the matter.
The Bulls head back to Chicago for Game 6 down 3-2 in the series, and if they can force a Game 7 back in Cleveland, Gibson is sure to receive the same treatment of heavy boos that Joakim Noah has seen in this series so far. The Cavs fans Gibson called out would probably send the "classless' label right back at him, using Kendrick Perkins' candid statement as fodder:
That quote becomes even more perfect if you read it in Eddie Murphy-circa-Delirious's voice. Regardless, this Bulls-Cavs series has had all the emotion we expected from these two teams, and that shows no signs of changing. Game 6 is Thursday night in what is sure to be a raucous United Center in Chicago.
(Via Vinnyviner and Sluggahjells3)