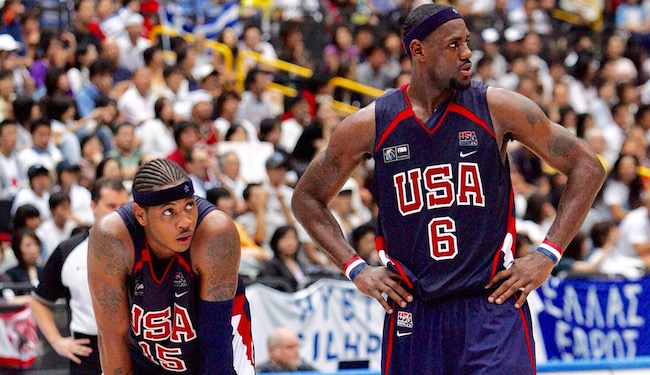 "We have to learn the international game better," United States coach Mike Krzyzewski told the Associated Press on this day nine years ago. "We learned a lot today because we played a team that plays amazing basketball and plays together."
The low point for USA Basketball is considered a loss to Argentina in the semifinals of the 2004 Athens Olympics. A newly-appointed regime, led by managing director Jerry Colangelo and Krzyzewski, overhauled the program two years later, placing an emphasis on continuity and commitment that underachieving American squads in 2002 and 2004 never did. That seachange marks an important and ultimately fruitful shift for the national team, one that remains in place nearly a decade later.

But despite what the popular narrative would have you believe, the tenure of Colangelo and Krzyzewski wasn't met with immediate success. The United States finished third in the first tournament under the direction of its new leadership, the 2006 World Championships in Indianapolis, after falling 101-95 to a team of Greek unknowns in the bronze medal game on Sept. 1, 2006 – the last time the Americans lost during international play and nine years ago today.
Krzyzewski's brief post-game remarks above tell the same story that film of his group's defeat does. Not only was the USA out-classed in terms of understanding, but also execution and experience. For the national team to avoid similarly sweeping ineptitude going forward – "They ran like one play the whole game," Dwyane Wade said – it would need the players to buy what Colangelo and Krzyzewski were selling… time on the practice floor during NBA offseasons, whether the Americans were scheduled for competition or otherwise.
It's fair to say that defeat in Indianapolis spurred USA Basketball back to heights they've reached and yet to come down from since the 2008 Beijing Olympics. The "Redeem Team" was hallmarked by a combination of desire, selflessness, and teamwork the United States had yet to exhibit on the international stage.
Eight eventual Olympians helped the red, white, and blue romp to gold in the 2007 FIBA Americas by way of a 39.5 point margin of victory. The four players who replaced the quartet who played in Indianapolis but didn't make the trip to China – Wade, Chris Paul, Chris Bosh, and Carlos Boozer – all had previous FIBA or Olympic experience, too.
Every iteration of Team USA since 2008's has been a direct reflection of its Beijing predecessor. Neither the 2010 nor 2014 FIBA squads – both of which won gold with relative ease – possessed one fully evolved member of the league's superstar elite (let alone several), but were still absolutely littered with the type of individual talents other countries may never compile.
More importantly, however, Colangelo and Krzyzewski built each roster out of committed national program members with on-court intricacies in mind. The glaring mistake of starting Stephon Marbury and Allen Iverson back in 2004, for instance, won't ever be made again, just like the collective lack of defense that doomed the Americans almost a decade ago won't doom them going forward, either.