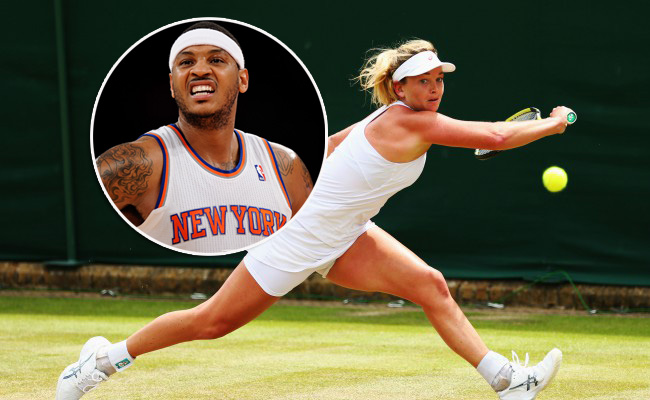 CoCo Vandeweghe is an American tennis player who upset the No. 11-ranked Karolina Pliskova on Wednesday at Wimbledon. She also happens to be the niece of former New York Knick Kiki Vandeweghe, who was the Denver Nuggets' general manager when they drafted Carmelo Anthony in 2003. She was asked about her thoughts on 'Melo following her victory, and had some not-so-kind words for the Knicks star:
"I just feel that Carmelo, he is a bit soft," she said. "Now, this is just my own personal opinion. I think he is soft. I don't think he has a killer instinct in his eyes, at least this last year. I believe he does have it, because I've seen it when they've gone to the playoffs."
She also suggested that the Knicks might be limited to explore their options to build around Anthony, given his current five-year, $124,064,681 deal he's in with New York:
"And I also think he needs people around him that have that killer instinct, because then that brings it out of you," Vandeweghe said. "And with him taking such a high salary, I think that kind of handcuffs the Knicks in being able to get those types of players that are getting big contracts. There's no way around that."
Let's see if 'Melo has any response for the 23-year-old tennis player.
(Via: Complex/New York Daily News)