Terrence Ross isn't the player many assumed he was following a 51-point explosion in January 2014, and likely won't ever be, either. But that hardly means the high-flying 24-year-old isn't valuable at the moment or lacks the room to make major improvements, a reality the Toronto Raptors acknowledged by inking him to a three-year, approximately $33 million extension before Monday night's deadline for contract negotiations.
In a statement confirming the deal on the Raptors' website, general manager Masai Ujiri opted for platitudes while discussing the merits of locking Russ up long-term.
"Terrence has shown growth with each season," said Raptors President and General Manager Masai Ujiri. "We are excited that he will be part of what we are building in Toronto. He is a great teammate and has worked hard to become one of our best shooters."
And frankly, the 6-foot-7 wing's ability and overall impact combined with his new contract almost renders more detailed analysis than that moot. Ross' deal will kick in next season when the salary cap approaches $90 million, and will end in 2019 as it vaults over $110 million. Anywhere from 10 percent to 12 percent of the cap is an acceptable number for a replaceable starter or quality bench player, and those destinies appear most likely for the Washington product as his fourth season gets under way.
Ross is an effortless spot-up shooter with deep range and eye-popping vertical explosion. That unique amalgam alone might have led to a team overpaying him in restricted free agency next summer even if he mostly stagnates in 2015-16. Perimeter players with size and athleticism who consistently knock down open jumpers are few and far between, and Ross' tantalizing physical gifts make it easy to believe he could develop into a plus defender and supplementary playmaker, too.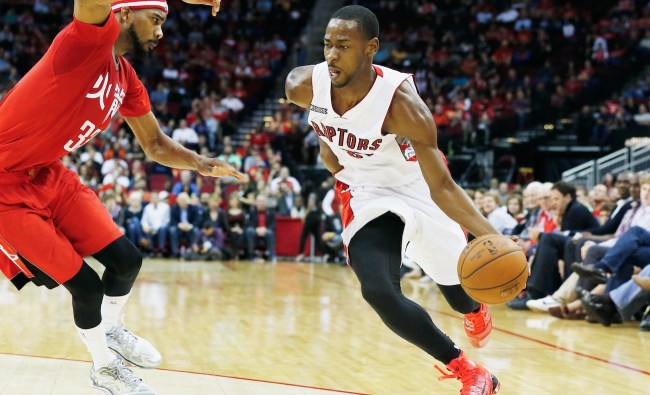 But other than fleeting flashes of effectiveness in both regards, Ross has proven one-dimensional. He ranked in the bottom 15 percent of pick-and-roll ball handlers last season according to Synergy, and the Raptors allowed over six fewer points per 100 possessions when he was on the bench as opposed to the floor – a team-worst mark among regulars.
That Toronto grew tired of Ross' two-way inconsistency and spacey disposition became clear when he was yanked from the starting lineup mid-season. Though he was eventually re-inserted alongside Kyle Lowry, DeMar DeRozan, and company, the Raptors essentially conceded his limitations by signing DeMarre Carroll this summer to be their third full-time starter on the perimeter.
Ross is flawed, yet there's still time for him to make mental strides that would maximize his strengths and mitigate his weaknesses – and he could take advantage of it immediately while playing a more finite role off the bench. It's that capacity for which he seems best suited in both the present and future, but there's still wiggle room on either side of it, too.
All things considered, is this contract a win for the player or team? It's impossible to say for now, an indication that Ross' extension with the Raptors seems fair more than anything else.
(Via Raptors)