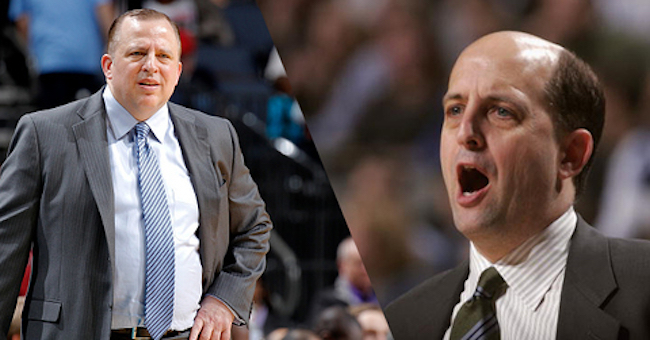 Focus of the NBA world has almost fully shifted to teams competing for the Larry O'Brien Trophy. And if the Minnesota Timberwolves get their man, Karl-Anthony Towns, Andrew Wiggins, and company could be in the postseason spotlight as soon as next season.
According to ESPN's Brian Windorst and Marc Stein, the Timberwolves have narrowed their search for a new coach to Tom Thibodeau and Jeff Van Gundy. The former Chicago Bulls coach interviewed with Minnesota's front-office brass over the weekend, while Van Gundy is scheduled to meet with owner Glen Taylor and Korn Ferry, an executive search firm, on Monday.
As previously reported last week, ESPN notes that the Timberwolves are expected to award their eventual hire a dual role as coach and president of basketball operations – one similar to those held by the San Antonio Spurs' Gregg Popovich, Detroit Pistons' Stan Van Gundy, Los Angeles Clippers' Doc Rivers, and Atlanta Hawks' Mike Budenholzer.
Minnesota relieved interim coach Sam Mitchell of his duties mere hours after its season ended with a blowout victory over the New Orleans Pelicans.
Though they went just 29-53, the Timberwolves showed immense promise in 2015-16 nonetheless. Towns established himself as a future perennial MVP candidate; Wiggins followed up a Rookie of the Year campaign with nuanced improvement that portends superstardom; and Zach LaVine, Gorgui Dieng, and even Ricky Rubio made significant individual strides to round out what many believe to be the most promising young core in basketball.

Perhaps most encouraging? Minnesota went 14-15 over its last 29 games of the season, near .500 basketball that coincided with a permanent adjustment to the starting lineup that saw LaVine and Dieng take the place of aging, injured, or departed veterans.
In the most basic way, Thibodeau and Van Gundy are the antithesis of Mitchell – brilliant basketball minds who's past failings on the bench were most related to ancillary factors like minutes distribution and demanding approaches to teaching. But coaches, like players, can realize mistakes and grow from them as a result. Have Thibodeau and Van Gundy evolved since last roaming the sidelines? That remains to be seen.
Considering they've emerged as the top candidates for the league's most attractive coaching job, though, it's fair to believe the Timberwolves believe they have. And if so, the rest of the NBA should shudder at the prospect of Thibodeau or Van Gundy guiding a team with talents the likes of Towns, Wiggins, and more.
(ESPN)