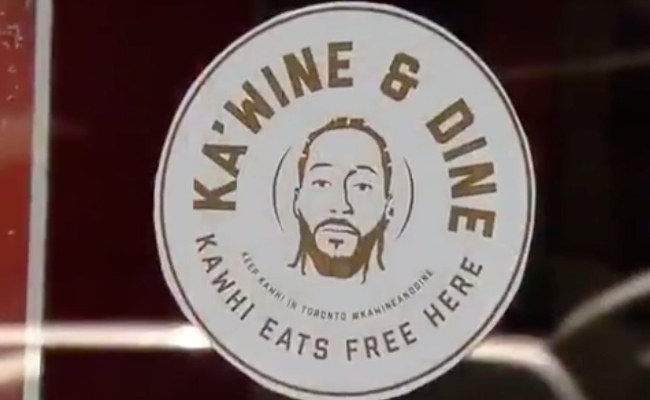 The Toronto Raptors defended their home court in Games 3 and 4 of the Eastern Conference Finals. Now, the series shifts back to Milwaukee with the Raptors and the Bucks tied at two games a piece, and at the very least, it's guaranteed to return to Toronto for a crucial Game 6 on Saturday.
By the time that happens, it's plausible that a fun idea to convince him to re-sign with the Raptors turns into a full-blown initiative across the city. During the fourth quarter of Tuesday night's Game 4 blowout, Kristen Ledlow of TNT brought word of Ka'Wine & Dine, a movement cooked up by the fine folks over at Raptors Republic to try and incentivize Leonard to stick around long-term revolving around free food.

It's simple enough: more than 50 restaurants throw the little sticker you see at the top of this post in their window, and if Leonard re-signs, he'll get meals for life in Toronto, a city that has a great food scene. But it's not just restaurants getting in on the fun: Uber and Lyft drivers can offer Leonard free rides for life, and according to Ledlow, the list of participating businesses also includes "a recording studio, an auto detail shop, and a law firm."
Of course, if Leonard does re-sign and get paid the GDP of a small country by the Raptors, he'll probably be able to foot the bill anywhere. But still, free meals are as good of an incentive to stick around as any, and we have a feeling that sticker is going to be in the window of a lot more than 50ish Toronto restaurants by the time July 1 rolls around.