TORONTO — The newest Jurassic World movie, Fallen Kingdom, has a post-credits scene, like a Marvel movie that involves scientifically inaccurate prehistoric reptiles. If you waited until the the last credits rolled you get a glimpse of that cinematic universe's future. A pteranodon lands atop the replica Eiffel Tower in Las Vegas, the camera panning over to other flying dinosaurs zipping past the Bellagio Fountain as emergency sirens wail. It's a brief clip before the screen cuts back to black, but it punctuates a point the movie's ending already made clear: humans have officially lost contain on the animals from Jurassic Park.
This would have nothing to do with sports if not for Toronto naming its basketball franchise after an animal from a 1993 film, a dinosaur that scientists now believe actually sported feathers. Described as the "newest, freshest and hungriest look in the NBA" the Raptors name was announced a year after Jurassic Park's release and fans were given a first look at a cartoon logo of a red raptor dribbling a basketball.
"What's great about this name is that the children and young adults of Canada picked it out at the end of the day," John Bitove, the team's first owner and president, said at a nationally televised press conference in May of 1994. And it's true — the Toronto Star had a contest where children voted on their favorite name out of 11 other finalists. The "Toronto Towers" finished second, but the creatures that terrified kids in a prep kitchen in Jurassic Park were, as it turns out, beloved by Canadian youths.

"The whole 90s appeal of the way they branded the team definitely worked on me and everybody else I know," said Katie Heindl, an NBA writer who as a young girl became a Raptors fan right out of the gate. She even voted for the name in the Toronto Star poll.
"Jurassic Park had just came out and I loved that movie, so I voted for the Raptors," she said. "I distinctly remember that moment and becoming hooked on basketball from then on out."
Heindl, a Canadian growing up in a country transfixed by hockey, wasn't a sports fan until then. She described the Raptors as an "entryway" into a world that had otherwise "felt kind of closed off to me." And she's certainly not alone: for a long time, the Raptors were the Others when it came to Toronto sports. When the Raptors were named, the Blue Jays were two-time defending World Series champions, and the end all, be all of Toronto sports was and still is the NHL's Maple Leafs.
Most Americans have never been to Canada, let alone know where Toronto is on the northern shores of Lake Ontario. But growing up 90 minutes away in Niagara Falls, New York, Toronto loomed large. Heavy-spending Leafs fans would flood in for games against the Buffalo Sabres because the ticket prices were so much cheaper in Buffalo than in Toronto. They were, simply put, the big bad. Even when the team was bad.
The Raptors and Maple Leafs are now owned by the same company, but it's difficult to reconcile just how different those franchises feel. In the hockey world Toronto is a free agent destination, and fans don't have to worry about players leaving for greener pastures. It's where the endorsement dollars lay for Canadian companies looking for a sporting face for their products, too. Looking through that lens, that the Raptors are considered a smaller market in the NBA seemed so strange to me — Toronto is massive.
The city itself has a population of nearly 3 million people, and the Greater Toronto Area expands that number to nearly 6 million. Mississauga, a city mostly known for being on the road between Toronto and Hamilton, has a population of more than 800,000 people. Mississauga alone — about 17 miles (28 km) from downtown Toronto — has twice the population of Oakland and is home to more people than American cities like Denver, Seattle, Boston and Washington D.C.
"The market size thing is weird to me because it's not an opinion or a subjective thing," said Blake Murphy, a Raptors beat writer for The Athletic. Murphy grew up a hockey fan like most kids in Canada, but the Raptors slowly took over as he manned Raptors Republic and turned writing about the team into a full-time gig. And he's seen the Raptors go from an afterthought among most Toronto sports fans to something that more closely resembles the potential energy of an NBA franchise in an international city.
It's worth noting just how far the Raptors have come in a few decades. The Raptors have a lengthy team history on their website for good reason — the franchise has grown a lot since it started playing basketball games in a baseball stadium.
"There wasn't even an arena when they first got a team," Heindl said, noting the Raptors started playing in SkyDome with no finalized arena plans when the franchise started. "Usually when a team starts things are prepared for them, but it feels like every step of the way the Raptors have had to carve out their own niche in the city."
It's a feeling that prevails in the franchise, even as they make their first NBA Finals in franchise history. When you talk to Raptors writers and fans you hear the same echoes from other fans in small markets. Worries about perception from the outside, of what free agents think of the city and how people don't understand what or where Toronto even is. But the Raptors franchise of today is a long way away from the dinosaur team with a jersey beloved by 90s kids.
"The sales pitch is always on about Toronto as a basketball market," Murphy said. "But the All-Star Game being here and the Raptors being a playoff team for multiple years now has really helped in that regard. How do you deny it once you're here and you see it for yourself?"

It's clear by now the fans have bought in. Naming your team after movie dinosaurs was a move targeting the young, not the old. But those 90s kids are now adults with disposable income and children of their own. And the team has done a great job of appealing to the city at large. A lot has been made of the diversity of crowds at Raptors games, and it's an element of who lives in Toronto and how the team has marketed itself. Heindl called Raptors crowds "a microcosm of Toronto," which isn't always the case of crowds at NBA cities.
"There's an underserved market here who didn't grow up in or aren't represented in this cult of hockey, so to speak," Murphy said. "And the Raptors have filled that void for a lot of people."
And make no mistake, the team has found fans because going to a Raptors game is super fun. A pep band circles the concourse at Scotiabank Arena before games, chanting and dancing and encouraging those waiting for hot dogs at the grill to do the same. A gigantic flag that matter-of-factly reads '4TH QUARTER TIME' in a typeface that looks suspiciously like Comic Sans hits the floor, you guessed it, between the third and fourth quarter. The vestiges of a nontraditional basketball franchise's marketing elements remain for a team that now has thousands of fans standing in Jurassic Park surrounded by expensive condos in downtown Toronto in any elements to watch the Raptors play on a video board outside.
"I think basketball really speaks across age and economic background," Heindl said. "And in Toronto they've done such a good job with marketing and appealing to younger fans."
But the Raptors have built a community for a lot of people because of what hockey can't provide to the masses. Hockey is, quite frankly, a sport for those with means. Equipment is expensive, as is ice time and coaching and all the things that insulate the rinks and a world that skews white and middle to upper class. And there's no getting around it: those barriers keep a lot of people of all races on the sidelines.
"I grew up in a small town in Ontario where my parents didn't have a lot of money. I couldn't afford to play hockey if I wanted to play hockey," said J.E. Skeets of The Starters. "Truthfully, it's part of the reason I didn't love hockey as much."
Skeets has been in Atlanta with NBATV for the last six years, but he grew up with the Raptors as the team found an identity with Vince Carter and Tracy McGrady. The Carter Effect was very real. Raptors management worked hard to build an audience, sure, but without a superstar the team could easily have had the same fate as the Vancouver Grizzlies.
"It's not even going that far to say that he did save the franchise," Skeets said. "If they have horrible 20-win seasons and there's not a lot of excitement, not a lot of highlights making its way down to SportsCenter in the States, maybe they disappear."
That Raptors superstar today is obviously now Kawhi Leonard. He was acquired in a trade, the only other way small markets get big stars outside of the draft. But the impact he's had in a single season in Toronto is hard for Raptors fans to quantify.
"It's not just having a good team with a fun fanbase, you need that star player that fans can identify. In basketball more than any other sport, I think that's been proven true," Skeets said. "He's not the most charismatic guy, but it really doesn't matter when you're putting up 35, 10, fives and putting up big dunks against other superstars like Giannis. That's what people connect themselves to. They find it easier to root for that guy and that team."
The consequences of this Finals run may not be fully realized for some time, but it feels like Toronto has sensed the Raptors are evolving as a franchise and could change the landscape of the NBA for good. Because the kids that voted on Raptors names or fell in love with Vince Carter dunks are watching it all happen for a new generation of fans.
"It wasn't lost on me that there were three kids that were 13, 14, 15 years old next to me, all decked out in Raptors gear at Game 6 with a chance to go to the NBA Finals," said Skeets, who traveled back to Toronto to watch Game 6 in the stands. "And it was surreal for me because that's when I fell in love with the sport. And then of course the team."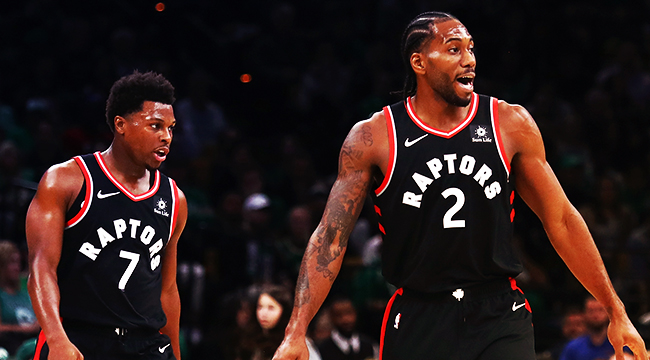 Looming over all of this is whether Toronto has done enough to get Leonard — a free agent this summer — to stay. It's a situation teams like the Raptors have struggled with over and over again, and despite all the growth of the franchise it still might not be enough this time around.
"That's the most difficult part for some of these teams," Skeets said. "It's getting a guy to come sign with these teams. Masai (Ujiri) did the ultimate move, he made the trade for him and now he's going to try to convince him to stay."
Whether Leonard stays this summer and the Raptors can run it back for five more years doesn't seem to matter to Raptors fans right now. This is uncharted territory, and it feels like the start of something new for the biggest small market in basketball.
"This whole postseason has kind of been them slaying their old demons and their old reputations," Murphy said. "The last five years have been about changing the reputation of the Raptors from a perennial afterthought and legitimizing them. This is the year where the page will kind of turn."
Unfortunately for Raptors fans, that page turns into a Golden State Warriors team that's become an modern NBA dynasty. But it wasn't so long ago that the Warriors were thought of a scrappy underdog with great home crowds, taking on the world and slaying the No. 1 seed in the West in 2007. These moments can change the perception of a franchise and set the stage for something more.
"I think the one thing Kawhi has done here on a more international level is he's raised the ceiling," Heindl said. "For what is the potential for the franchise and also for what the fans can hope for."
The NBA world just may have lost contain on the Raptors. The dinosaurs are off the island, and anything can happen now.