During the 2016 NBA Playoffs, as the Raptors finally made their way out of the first round and slogged their way through two seven-game series wins over the Pacers and Heat, it started to dawn on me: As someone who has followed the Raptors since they were an expansion franchise, they were setting all kinds of all-time franchise moments during their playoff push.
Winning their first seven-game series ever? Definitely a top-10 moment. The celebration at Yonge-Dundas Square in downtown Toronto after advancing to Eastern Conference Finals? Iconic. The list just kept growing. Preempting a Warriors playoff game to TBS because the Raptors were still playing the early game on TNT? Yes, top seven at least. Hubie Brown complimenting DeMar DeRozan's game on national television for everyone to hear? Top eight. Even the Raptors getting swept by LeBron James and the Cavs in the conference finals (spoiler: it went six) would have been a top-10 moment, anyways.
Like all running jokes, there's a measure of truth to all of it. The Raptors franchise have been filled with glowing moments that were mostly all too brief (hey, even signing Hedo Turkoglu was once a top-10 moment because a marquee free agent actually chose Toronto). After two decades, you start grasping at straws at all the wonderful moments that come and go, which is partly why it was so hard for a lot of the fanbase to bid farewell to DeRozan, even if the Raptors are potentially adding a top-five player in the league in Kawhi Leonard, even if his health and commitment to this team beyond this season are in question.
DeRozan was part of the core group that gave Raptors fans their first sign of stability, even if the playoff results were disappointing, especially last season's second round sweep to the Cavs. After thinking about this for several years on and off, here are my own top ten moments in Raptors franchise history, in no particular order.
(A quick note: Many people have suggested LeBron James moving to the Western Conference should be number one, two, and three. While it can be argued that's the case, for the sake of fairness, it only appears once.)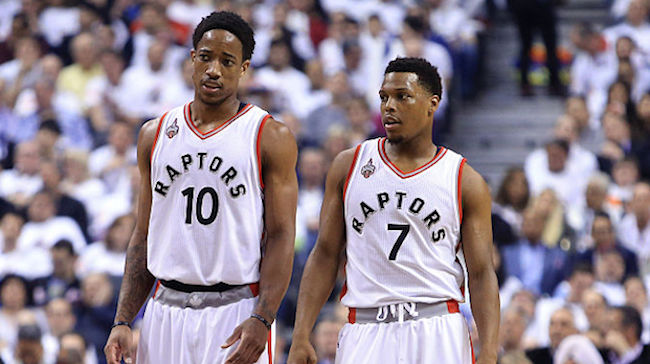 Making the 2016 Eastern Conference Finals
You can never take away the fact the Raptors were two wins away from the NBA Finals, even if they lost their four games in the series to Cleveland by an average of 28.5 points, including a 38-point loss in Game 5 after having evened the series with two home wins in Toronto. As mentioned above, this remains the high water mark for the franchise and came after two consecutive first round exits. This series was also the last time the Raptors would win a playoff game against James in the playoffs, but who's counting (wait, everyone is counting, including Masai Ujiri).
Kevin Durant's OVO Fest cameo
The summer of 2015 was an exciting time for Toronto sports fans. The Blue Jays acquired front-end starter David Price near the trade deadline, and he helped end the team's two-decade playoff drought. In August, then-Oklahoma City Thunder forward Kevin Durant watched Price's debut at the Rogers Centre in Toronto, then attended Drake's annual OVO Fest wearing a Price jersey with DeMar DeRozan.
For 15 minutes (or an entire calendar year, depending on how much of a daydreamer you were), it was possible to envision Durant, a self-proclaimed Raptors fan growing up, coming to Toronto and lifting the franchise to new heights. Those 15 minutes was really fun, and I'm ready to commiserate with Raptors fans online who believe Durant could still end up in Toronto before his career is over.
Vince Carter in the 2000 Slam Dunk Contest
It would be egregious to not include the greatest Slam Dunk Contest performance of all-time on this list. Vince Carter's 2000 Slam Dunk Contest performance has aged very well, and remains the go-to YouTube video for whenever things get a little dark with the current Raptors. Those were good times and I look forward to Carter signing one of those silly one day contracts and retiring in Toronto so the team can retire his number and raise his jersey to the rafters right next to the banner that reads Inaugural Season at the Scotiabank Arena*.
(* — This is what the arena formerly known as Air Canada Centre is called now. I petition that we just keep calling it the ACC. Sorry Scotiabank, also your slogan is "You're Richer Than You Think," which sounds like a lie).


Vince Carter's Game 3 vs. Philadelphia in 2001
Franchises like the Raptors just can't have nice things. There's Carter's dunk contest, and then there's Carter basically publicly declaring he was no longer going to dunk just weeks before he was traded to the New Jersey Nets (A reminder: for Alonzo Mourning, who did not report, Aaron Williams and Eric Williams). Even Carter's most memorable playoff run with the Raptors ended in controversy, when he flew to North Carolina for his graduation ceremony on the morning of Game 7, and then missed the potential series-winning jumper at the buzzer later that day.
However, Raptors fans will always have Carter's Game 3 performance in that series. Fifty points. Nine three-pointers. Eight of them in the first half. A definite top-10 moment and personally, still the best Raptors playoff game in history.
LaMarcus Aldridge "intrigued" by Masai Ujiri's vision
Teams in free agency celebrate when they get a meeting, let alone actually landing their target. The Raptors have to aim a little lower, because no one ever wants to consider them as a free agency destination. So it was a pretty huge moment when Adrian Wojnarowski reported in 2015 that LaMarcus Aldridge — a free agent who signed with San Antonio — was very intrigued by Masai Ujiri's vision, and swayed by his genuine spirit. It wasn't enough to land an actual visit to Toronto, but this was a huge step for the franchise to be even in the conversation, and in Ujiri, the Raptors had someone who dreamed big and was able to sell those dreams to players. I'll never forget the adrenaline rush of reading that article.
LeBron James going to the Western Conference
The most self-explanatory entry on this list. LeBron James might end up being the greatest player of all-time, so there's no shame in losing to him in the playoffs, but a second straight sweep to the Cavs, a team that needed seven games to barely squeak by the Pacers in the first round, proved James was really the unbeatable final boss in a video game that the Raptors were never going to get past. Good news: They won't have to now, unless Adam Silvers announces at next year's All-Star break the league is reseeding 1-16 across conferences effectively immediately and the Raptors draw the Lakers in the first round. I'm not picking the Raptors in seven again.
The second half of Mike James' 2005-06 season
Here's the link to the stats I'm about to list below just so you are confirm I didn't make them up. There were a lot of not very memorable seasons after Carter's departure, and the 2005-06 season was one of them. Chris Bosh was rounding into form as a star, but his season ended prematurely in March with an injury, and Toronto was limping their way to a 27-55 season.
In those lost years for any team, you need something to hang on to, and let me tell you, journeyman guard Mike James delivered. His numbers in March: 23.4 points, 7.0 assists and 1.3 steals per game on 46.4 percent shooting from the field, 41.3 percent from three and 81.1 percent from the free throw line. James made an all-time second half free agency push, finishing April averaging 27.6 points, 6.1 assists and 4.0 rebounds a night on 47.0 percent shooting, 43.8 percent from three and 82.2 percent from the free throw line. Shouts to Mike James and the contract he earned from the Minnesota Timberwolves at season's end.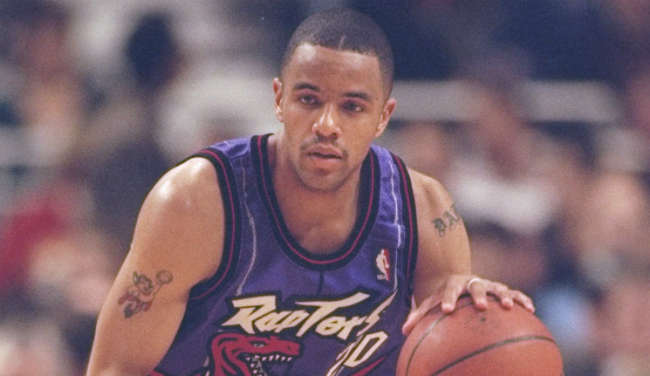 The expansion Raptors beat the 72-win Bulls
As far as expansion franchise memories go, being one of the teams to hand Michael Jordan and the Chicago Bulls a regular season loss in a season where they would finish with 72 wins ranks pretty high on the list. My favorite thing about the expansion Raptors getting this win is the fact it happened at the SkyDome (now the Rogers Centre). The 72-win Bulls lost one of their games in a baseball stadium. In Canada. Still incredible.
James Dolan vetoing a Kyle Lowry trade and everything that happened after
The 2013-14 season was supposed to be the start of a lengthy rebuild for the Raptors, which seemed like a pretty tough pill for the fanbase to swallow considering the team had just missed the playoffs for the fifth consecutive season. Rudy Gay was jettisoned to Sacramento early in the season, and a deal was in place to send Kyle Lowry to the Knicks. DeRozan was probably next, and then Ujiri would start tanking for somebody (Andrew Wiggins, maybe) and Drake as the team's global ambassador would keep the entertainment value high for the team during dark times.
And then, James Dolan vetoed the Lowry trade. The team, 9-14 at one point, went on a scorching second half run and finished with 48 wins, and went to seven games with the Brooklyn Nets in the first round. It energized an entire fanbase in Toronto, gave birth to Jurassic Park outside of Air Canada Centre, and set the course for their most successful five-year run in franchise history. You don't hear this often in sports, but thank you, James Dolan.
Kawhi Leonard smiling with Bobby Webster and Masai Ujiri
A brief summary of Kawhi Leonard's entry into the top ten franchise moments: First entry was when it was reported the Raptors were in the driver's seat to trade for Leonard, which was supplanted by Las Vegas installing the Raptors as betting favorites to land Leonard, followed by Zach Lowe telling everyone on his podcast to start taking the Leonard-to-Toronto rumors more seriously than they have been, followed by the trade actually happening, followed by the excitement of the fanbase realizing Ujiri didn't have to trade Pascal Siakam and OG Anunoby, followed by a detour to Leonard potentially not reporting to Toronto and then showing up for his physical and smiling in a photo.
Leonard's Wikipedia page says he's an American basketball player for the Toronto Raptors. The franchise might finally have the superstar it has coveted for so long. It wouldn't be the Raptors if it didn't come with a long list of question marks.