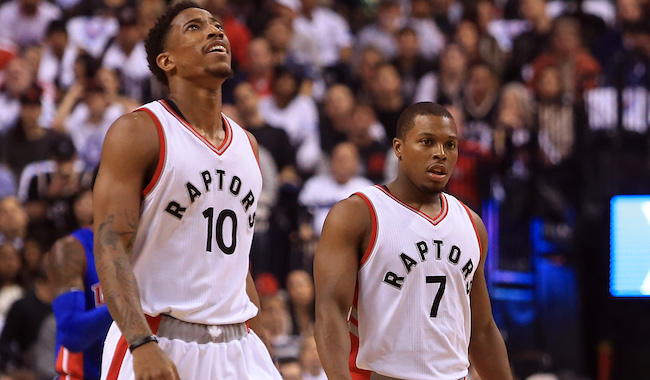 The Toronto Raptors made the decision to "run it back" for the 2017-2018 season, at least in some ways. Masai Ujiri elected to re-sign his best player in point guard Kyle Lowry and, despite the loss of Patrick Patterson and P.J. Tucker in free agency, the Raptors were able to keep the frontcourt stable by bringing back Serge Ibaka on a lucrative contract. However, Toronto's salary cap flexibility was basically wiped out by that series of transactions and, given that the team did not boast a functional wing rotation, that presented a challenge.
Over the weekend, however, the Raptors got creative. First, Toronto moved on from veteran forward DeMarre Carroll via a trade with the Brooklyn Nets.
While Carroll is a useful player when healthy, the former Atlanta Hawks standout is owed $30 million combined over the next two seasons and, in short, was not worth that kind of investment at this point. The Raptors paid a steep price to part ways with Carroll in sending away two assets to the Nets but, just hours later, the move made a bit more sense.
In order to fix the hole created by the jettisoning of Carroll, the Raptors acquired wing shooter C.J. Miles and, by proxy, invested a modest three-year contract in his services. The loss of Cory Joseph is not a small one but, in the same breath, the Raptors do have quality backup options in Delon Wright and Fred VanVleet, allowing Uriji to make this exchange without much issue.
The bigger picture, though, is that it takes these kind of moves to operate with the way the Raptors are currently constructed. In some ways, Ujiri never wanted this roster. There were all kinds of rumblings that he was set to press the reset button a few years ago before something clicked and Toronto effectively became a 50-win team overnight. Still, the price point for Lowry and DeRozan makes things quite difficult to build a legitimate contender moving forward, especially when coupled with more than $35 million annually for the frontcourt duo of Ibaka and Jonas Valanciunas.
Are the Raptors a (very) good basketball team, especially in the regular season? Absolutely. In fact, it would be a mild surprise if the team did not cruise to a top-four seed in the weakened Eastern Conference without long-term injury to a player like Lowry. Still, Ujiri's creative in recent days was born out of necessity and, even with a strong bargain on the Miles contract, there isn't much more the Raptors can do in the short term to improve their on-court product.