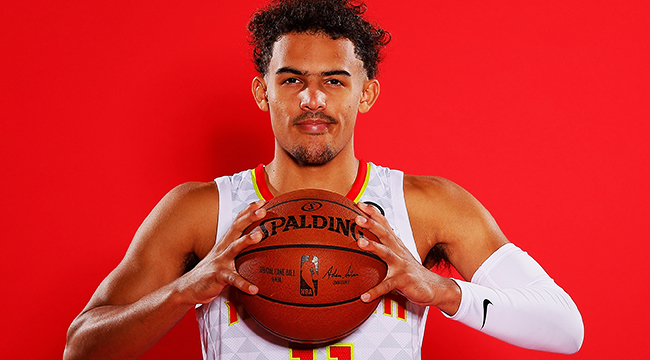 Trae Young was a generational shooter and passer at the college level and it showed in his draft position in the 2018 NBA Draft. The Atlanta Hawks decided to trade down from No. 3 to pick up Young at No. 5, whom they had in the same general tier as Luka Doncic, and a future first-round pick from the Dallas Mavericks.
While there may have been other players many preferred at No. 5, Atlanta went all-in on executing their vision of high-level shooting and passing up and down the roster, following up the Young pick with Kevin Huerter and Omari Spellman. The message was clear: Three-point shooting and playmaking are the highest-priority items on general managers Travis Schlenk's to-do list and Young in particular fit his vision in every way.
Given his reputation, whether fairly or unfairly, as the "next Stephen Curry," it may come as a surprise to many that Young is a very different player than one of the most devastating offensive forces in league history. While he flashed the Curry-like pull-up shooting at Oklahoma, he's struggled getting to those same shots in Summer League and preseason thus far, giving rise to the worry that he doesn't have the same physical tools that help make Curry what he is. Young's not as strong, not as quick, and doesn't have nearly the same handle, which combine to put him at a disadvantage when trying to dance his way open on the perimeter against NBA-level defenders.
However, Young is already, right now, a better passer than Curry is or ever was. He'll walk into the league as one of the very best in that department immediately. Instead of working with the ball in his hands to get to his shots, many of Young's best looks have come through his off-ball work. He's still working on changing his mindset from the college and AAU levels, where he had the ball in his hands on every possession and was usually solely responsible for creating his own shot.
With Atlanta, he'll be free to move without the ball and find holes in the defense, but only if he studies how the best shooters lull defenses to sleep before launching those deep bombs. It's a new skill for Young, whose off-ball movement mostly comprised of running toward the ball to get it back in his pre-NBA career.
One way the Hawks' coaching staff can get Young moving without the ball is to install specific plays that generate open shots for him after some of that off-ball movement. In Wednesday's preseason game against the San Antonio Spurs, head coach Lloyd Pierce broke out an old favorite across the league when Atlanta ran a Hammer set to open the third quarter.

Long before Pierce arrived to take over the Hawks from Mike Budenholzer, the team's offense had always included a lot of the same movement and motion at the top of the key to begin half-court possessions. The initial ball and man movement that leads to the Taurean Prince-Alex Len pick-and-roll is standard issue for Atlanta dating back to the Budenholzer days, when the Hawks would take advantage of sleeping defenses to get Kyle Korver open threes early in the shot clock. This sort of action doesn't get them an open shot every time, but it gets the defense moving and forces them to defend for more time, leading to a higher chance of a defensive breakdown.
When the Hawks get nothing out of the initial screening action, they move into a standard spread pick-and-roll, with Prince handling and Len stepping up to set the screen. Young is on the weak-side wing and drawing quite a bit of attention, but Vince Carter isn't – his man is responsible for helping on the pick-and-roll to make sure Len doesn't just walk in for a dunk. Carter knows this, so he steps up into what's known as a "hammer" screen for Young, in which the screener sets a back screen for a shooter to float from the wing into the corner, where the ball finds him for an open three.
This sort of set play is precisely what the Hawks are going to need to do to get Young going early in his career while he's still developing the other aspects of his game that will allow him to become something similar to Curry. He's not going to be able to dance and pull up over most point guards, but Atlanta can get Young his threes through his off-ball movement and the rest of the team's passing ability.
In that vein, there are a handful of other plays the Hawks can draw from other teams' playbooks to take advantage of Young's shooting prowess. One such set is a double screen-the-screener set the Denver Nuggets like to run for Jamal Murray:

It seems counterintuitive, but a major part of a shooter's repertoire in the modern NBA is his ability to set screens. No longer only reserved for big men, shooters who can effectively screen for their teammates find themselves open consistently as defenses instinctively flock toward the basket to help on an open cutter. This is part of what makes Curry great — he led all point guards in screen assists per game last season — and the essence of what gets Murray open in the above clip.
Thus far, the Hawks have not included Young in screening action, but even at his small stature, they should be able to effectively use him in a similar way to generate open shots for Young and his teammates. It's not a foreign concept to Pierce, either; the Philadelphia 76ers (who employed Pierce for the past five seasons) constantly use J.J. Redick's screening to open him up on the perimeter.
Young isn't physically ready to step into the NBA and continue his same style of play and shot selection he showed at Oklahoma. The Hawks will have to work with him on the mental side of the game as well, specifically with respect to his movement and reading of the game when the ball isn't in his hands. He has the intellect to understand the game at a high level, as we've seen from his passing and playmaking ability, but rewiring his instincts to move without the ball and constantly be searching for small holes in the defense will take some work early in the year.
For now, it'll come down to set plays from the coaching staff to get Young moving without the ball. Eventually, the club is hopeful that he can emulate some of the best shooters in the league in their instinctive movement and repositioning along the perimeter, at which point Young could rightfully join Curry, Murray, and others in the elite tier of shooting point guards in the NBA.