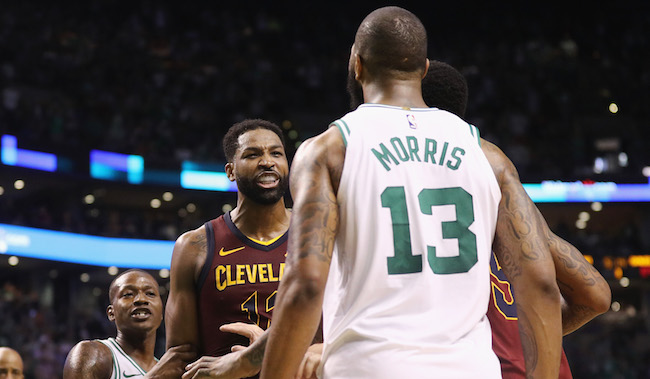 The Cleveland Cavaliers are projected to win 30.5 games this season, according to the Westgate SuperBook's win totals list. That's a significant departure from the 50 win team a year ago, but then again, Cleveland had a significant departure from the roster.
LeBron James is in Los Angeles now, choosing to spend the next four years with the Lakers rather than re-upping with the Cavs this summer. The reality of losing LeBron is that Cleveland goes from a perennial favorite in the East to a projected lottery team, with almost no other changes to the roster.
Don't tell Tristan Thompson that, though, as he was defiant on Thursday when asked about Cleveland's place in the East this season. He told reporters that no other team has "much to say" until they take the Cavs off their perch, and proceeded to rattle off the playoff failures of Boston, Philly, and Toronto last year.

I'm usually all for players being confident in their team and themselves, because it's required to be successful in the NBA, but this is beyond "Bucks in six" in the inviting mockery category. I expect the Cavs to feel like they're going to be a playoff contender and I understand being publicly positive about the team, but this is only destined to backfire.
It's already earned a response from Celtics' forward Marcus Morris, who found it hilarious.
Ben Simmons also got a good laugh out of it, as noted in an Instagram comment.
The NBA is never dull, but unfortunately for Thompson, it's hard to see him and the team being able to back up his strong words when they get on the court against the top teams in the East.