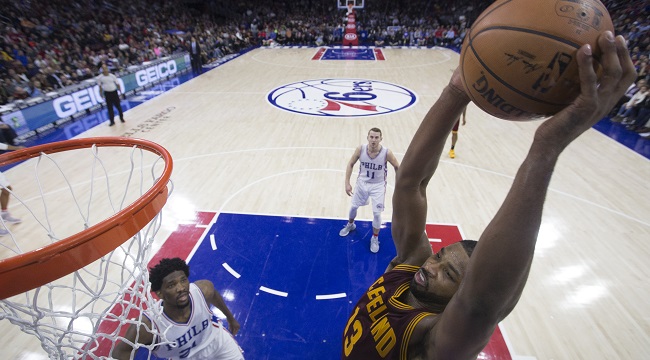 Long-time NBA forward A.C. Green holds the league's "Iron Man" streak as he appeared in 1,192 consecutive games in the late 1980s and early 1990s. While that isn't exactly a high-profile record in the NBA world, it is a remarkably impressive streak and one that will probably never be approached again given the way that the league monitors health and player performance. To that end, Cleveland Cavaliers big man Tristan Thompson owned the NBA's longest active streak (447) of consecutive games. But it's set to come to an end on Wednesday evening.
The Cavs announced on Wednesday that Thompson would miss the team's next two games, beginning with a match-up of No. 1 seed contenders against the Boston Celtics on Wednesday and continuing through a battle against the Atlanta Hawks on Friday. The release indicates that the 26-year-old big man actually suffered a sprained right thumb during Cleveland's win over the Orlando Magic on Tuesday,
While Thompson finished the game, the team is taking the safe, long-term approach with regard to the ailment.

Thompson has enjoyed a fascinating career for a number of reasons above and beyond the impressive streak of consistency. The 6'9 combo big man is one of the league's most prolific offensive rebounders and Thompson was a very important part of Cleveland's championship run in 2016. However, the five-year, $82 million contract that Thompson signed just prior to the start of the 2015-2016 was seen as highly controversial and there is a segment of the basketball-viewing population that has never been able to reconcile that against what most league insiders perceive as an extremely high level of performance.
The Cleveland Cavaliers would have an extremely difficult time winning, or even competing for, the 2017 NBA Championship without Tristan Thompson at full strength and the team is doing right the thing with that as the backdrop. However, it is unfortunate that he will be forced to miss action and any dream of Thompson replicating Green's insane level of durability has vanished in one fell swoop.