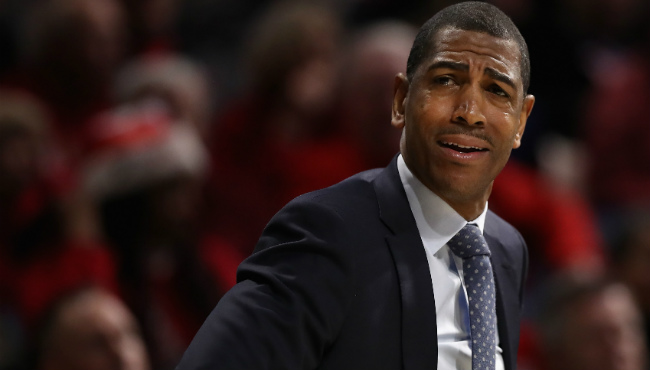 In his first two years as the head coach of the UConn Huskies men's basketball team, Kevin Ollie led the team to a 52-18 record and the 2014 national championship. Since then, the Huskies have become a rather stagnant program, and early on Saturday morning, the university decided to make a coaching change.
UConn has fired Ollie, who in six years led the program to a 127-79 record and a 59-49 mark in conference play. The news was first reported by Jon Rothstein of CBS Sports.
The shine has come off of Ollie's tenure rather quickly since winning the fourth national title in school history. Since winning it all in 2014, UConn has made the NIT in 2015 and got bounced in the second round of the NCAA Tournament a year later. The team has not made it to the postseason since then, as it has had back-to-back sub-.500 seasons.

In addition to Ollie getting fired, ESPN's Jeff Goodman reports that the school is doing this with cause. The NCAA is in the midst of an investigation into the program's recruiting practices. Goodman also identified a potential replacement for Ollie in Dan Hurley, a rising star in the profession who has been the head coach at Rhode Island since 2012.
UConn's coaching search will be interesting, but the big story here is how far Ollie has fallen over the last few years. He was one of the hottest names in coaching after the Huskies won it all, and at one point was even in consideration to make the jump to the NBA. Now, he's out of a job.
(Via CBS Sports)