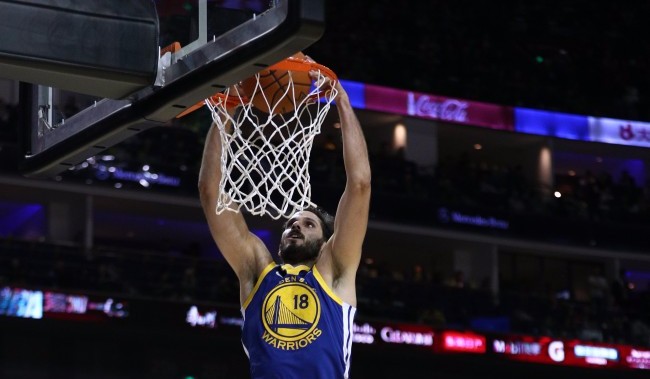 Following the blockbuster moves made this offseason involving Chris Paul, Kyrie Irving, Isaiah Thomas, Jimmy Butler, Paul George and a number of other All-Stars, it's easy to forget about the smaller acquisitions NBA teams made to improve their roster. That includes teams expected to compete for a spot in the NBA Finals this season such as the Rockets, Thunder, Cavaliers and Warriors, as well as teams looking to take the next step in their rebuild such as the Nets, Lakers, 76ers and Kings.
With that in mind, let's take a look at five acquisitions in particular that have flown under the radar as we enter the 2017-18 NBA season. They won't all make the same impact, but they each bring an important element their respective teams were missing last season.
Luc Mbah a Moute
As the starting small forward for the Clippers, Luc Mbah a Moute became known more for what he doesn't do than what he does do. That should change now that he's on the Rockets.
Although Mbah a Moute isn't a volume three-point shooter, he's a better floor space than he's made out to be. 41.1 percent of his offense came from spot-ups last season, and he ranked in the 82.3 percentile with 1.14 points per possession. The bulk of those opportunities came from the corners, where he shot 41.8 percent on 3-point attempts. Considering the Cavaliers were the only team to attempt more corner three-pointers than the Rockets last season, it bodes well for how Mbah a Moute will complement James Harden and Chris Paul in Mike D'Antoni's system.
Where Mbah a Moute really shines is on defense. He's incredibly versatile in that regard, possessing the length and speed to guard multiple positions. Playing him at power forward or center at times alongside Harden and Paul should give the Rockets the sort of frontcourt specialist they needed last season to keep up with the Warriors, Spurs, and Cavaliers.

Allen Crabbe
Almost half of Allen Crabbe's shot attempts came from the three-point line last season, and he converted 44.4 percent of his opportunities from the perimeter. 44 players made more three-pointers than him on the season, but the only players in the entire league to knock them down at a higher rate were Kyle Korver (45.1 percent) and Pau Gasol (53.8 percent).
That will make a tremendous difference to the Nets, who acquired him from the Trail Blazers this offseason for Andrew Nicholson. Despite taking the fourth most 3-pointers in the league last season, the Nets ranked 26th when it came to knocking them down. Quincy Acy and Joe Harris were their most the accurate three-point shooters, and Brook Lopez — who had never taken more than 14 three-pointers in a single season — led the team with 134 made three-pointers.
By adding Crabbe to their starting lineup, the Nets are getting one of the best spot-up shooters in the NBA. They're also getting someone who is comfortable running off of screens, with those possessions making up 22.0 percent of his offense last season. The combination makes Crabbe a perfect fit in Kenny Atkinson's three-point-heavy system.
Omri Casspi
Omri Casspi is a 6-foot-9 power forward who is a career 36.7 percent shooter from the perimeter. That alone makes him a great fit next to Stephen Curry, Klay Thompson, Kevin Durant and Draymond Green because he will open up driving lanes for each of them when he's on the floor by drawing opposing power forwards away from the paint. It helps that he's not afraid to shoot from deep either.
Furthermore, Casspi generated 45.5 percent of his scoring in transition and on cuts last season. While he struggled with efficiency in both of those areas, no team scored with greater frequency on those plays than the Warriors. Like we saw with Durant last season, Casspi should be a bigger scoring threat in transition and on cuts with better teammates now surrounding him.
Casspi is basically a low maintenance stretch four who is a willing cutter and a capable defender. It makes him a perfect weapon to bring off the bench on a team full of playmakers, especially for the veteran minimum. If he's not in the rotation by the start of the season, there's a good chance he will be by the time the playoffs begin in April as long as he can stay healthy.

Patrick Patterson
Before the Thunder traded for Paul George and Carmelo Anthony, they pulled off the best low-key signing of the offseason: Patrick Patterson on a three-year, $16.4 million contract.
Patterson never averaged more than 9.1 points per game in a Raptors uniform, but he's the ideal power forward to put alongside Russell Westbrook, Paul George and Carmelo Anthony because he doesn't need the ball in his hands to make an impact offensively. 54.3 percent of his offense came from spot-ups last season, and he ranked in the 73.4 percentile with 1.07 points per possession. While 14 power forwards made more three-pointers than he did on the season, only nine converted them at a higher percentage.
Making Patterson more valuable is he's the type of frontcourt defender who can switch onto a number of positions and provide some relief as a rim protector. It'll give the Thunder the option of playing him at power forward or center depending on who they're playing against, and his versatility should help them compete on both ends whenever he's on the floor. It's why the Raptors were a much better team with him in the lineup all four seasons he was in Toronto.

C.J. Miles
It remains to be seen if C.J. Miles or Norman Powell starts alongside Kyle Lowry and DeMar DeRozan in the backcourt this season, but Miles will make an impact with his three-point shooting either way. He made a total of 169 3-pointers coming off the bench for the Pacers last season, the bulk of which were of the catch-and-shoot variety. At a rate of 42.3 percent, he was as accurate as Kawhi Leonard, Damian Lillard, Ryan Anderson, Carmelo Anthony, and Kevin Durant on catch-and-shoot threes.
Like Crabbe, those numbers helped Miles establish himself as one of the best shooters in the NBA last season. And like Patterson, Miles can provide that shooting from a number of positions. According to Basketball-Reference, he logged 43.0 percent of his minutes at shooting guard, 48.0 percent of his minutes at small forward and 9.0 percent of his minutes at power forward last season. His versatility will therefore give the Raptors the option of starting him in the backcourt and bringing him off the bench to play power forward in five-out lineups.
Throw in the ability to guard guards and forwards, and it makes Miles the type of three-and-D wing teams need to compete with the Cavaliers and Warriors on both ends of the floor. He could end up being the key to the Raptors finally getting over the hump in the postseason if he can build on last season's success.