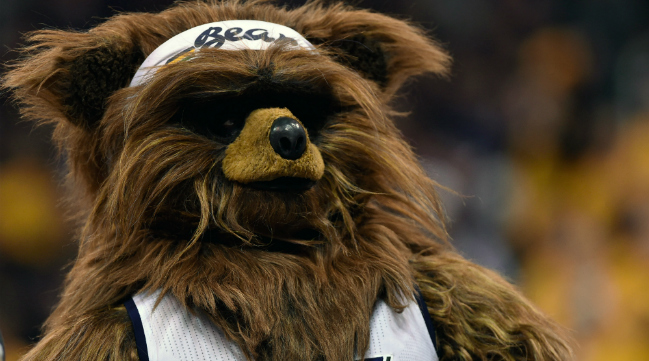 Mascots are incredibly weird. Their singular goal is to make things more fun at sporting events, but sometimes, they can get a little too into the requirements of their job and go from being fun to being kinda strange. Just ask any kid who is in this video of children playing football against mascots.
An example of this came on Tuesday during the Utah Jazz's game the Denver Nuggets. It was a pretty uneventful game — Utah won, 106-77, led by a very impressive 24 points, nine rebounds, five assists, and three blocks from Derrick Favors — but I really need to talk about this clip involving Jazz Bear with someone.
Donovan Mitchell busted out an awesome windmill dunk that didn't count because the play had been called dead, but look along the baseline after the dunk happens.

Now what in the heck is this, Jazz Bear? Why are you running around with a dang child thrown over your shoulder like it's a bag of kitty (or kiddie, in this instance) litter? We need context here, because if this is anything other than "this is the daughter/son of the person in the mascot costume and they are being returned to their seat after grabbing a pretzel or something," it's rather strange.
This wasn't the only child-related thing to occur at Tuesday's Jazz game, as this happened.
Yes, this appears to be toddlers in bear suits driving around on the floor while Fat Joe and Remy Ma's "All the Way Up" plays. Unlike Jazz Bear running around with a kid draped over its shoulder, this rules.