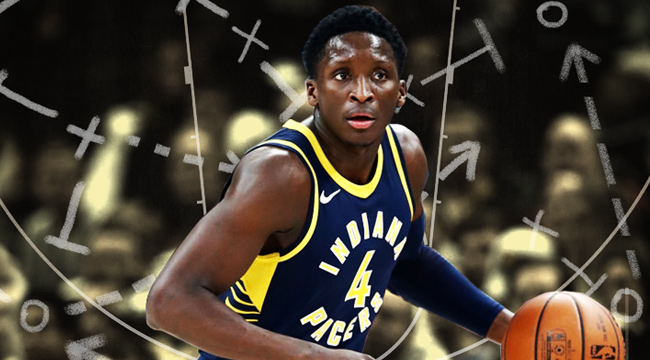 Victor Oladipo was regarded as a breakout candidate last season. He had shown flashes of his potential in his three seasons with the Magic, and being traded to the Thunder was seen as an opportunity for him to make his mark in a much more competitive environment. It helped that he was going to play alongside Russell Westbrook, who had the potential to unleash Oladipo as a secondary playmaker after he had been seemingly miscast as the primary option in Orlando.
The season didn't go as planned. While Westbrook carried the Thunder into the playoffs, Oladipo never looked comfortable in his new role. Although he shot the ball better from both the field and the perimeter, his scoring and assist numbers declined. More worrisome was the fact that the Thunder were outscored by 46 points in the 532 minutes Oladipo was on the court without Westbrook. It therefore seemed unlikely that Oladipo would thrive on a Pacers team lacking star power, but he's proved everyone wrong in the opening 29 games of this season.
Oladipo is averaging 24.4 points, 5.5 rebounds and 4.0 assists per game with the Pacers, doing so on 47.8 percent shooting from the field and 43.3 percent shooting from the perimeter. Based on those numbers, it should come as no surprise that the Pacers have been a completely different team with him in the lineup. They are currently being outscored by 5.2 points per 100 possessions with him on the bench and are outscoring opponents by 5.7 points per 100 possessions with him on the court. It makes Oladipo the front-runner for the Most Improved Player award and gives him a strong case to be named an All-Star for the first time in his career.
The biggest difference between Oladipo this season compared to last season is he's getting an opportunity to run the show. Following a season in which he posted the lowest usage rate of his career, Oladipo is handling the ball as much as LeBron James, Kyrie Irving, Giannis Antetokounmpo, and Westbrook. He had a high usage rate as a rookie and sophomore with the Magic, but he has improved significantly as a scorer and playmaker since then. Oladipo's shot selection has changed across the board accordingly:

Having to spend most of his time off ball next to Westbrook translated into 59.2 percent of Oladipo's made field goals coming within one dribble, which explains his reliance on spot-ups last season. With Westbrook posting the highest usage rate in NBA history, Oladipo would often find himself camping out on the weakside in their minutes together, giving him the option of either spotting-up for a 3-pointer or pulling-up from midrange with the shot clock winding down. Oladipo converted those shots at a decent rate — he made 36.9 percent of his catch-and-shoot 3-pointers and 43.2 percent of his 2-point pull-ups — but it didn't play to his strengths.
Oladipo is relying far less on those shots this season. He's gone from almost all of his 3-point attempts being of the catch-and-shoot variety to shooting an equal amount of pull-up 3-pointers. It's a big reason why far more of his baskets have been unassisted this season. The bulk of those has come in the pick-and-roll, where Oladipo ranks in the 77.5 percentile with 0.94 points per possession. Now that he's a confident three level scorer, there isn't a particular shot the defense can take away from him in those situations.
It helps that Oladipo no longer has to share the court with two traditional big men in the frontcourt and a non-shooter in the backcourt. Whereas Oklahoma City's starting five of Westbrook, Oladipo, Andre Roberson, Domantas Sabonis and Steven Adams had a spacing rating of 13.3 percent, Indiana's starting five of Darren Collison, Oladipo, Bojan Bogdanovic, Thaddeus Young and Myles Turner has a spacing rating of 58.3 percent. (The Thunder's spacing rating with Taj Gibson starting at power forward, for what it's worth, was 0.0 percent). Young and Turner aren't volume 3-point shooters, but they're both comfortable operating outside of the restricted area. Involving either of them in a pick-and-roll can open up driving lanes for Oladipo in ways Adams, Sabonis, and Gibson couldn't as screeners.

Oladipo also gets the luxuries that come with being the No. 1 scoring option in today's NBA. He has gone from averaging 0.7 isolation possessions per game last season to 2.5 isolation possessions per game this season because he's getting more opportunities to attack mismatches on switches. It once again helps that the Pacers can surround him with players who are at least comfortable scoring outside of the paint, and it's a similar deal with his development into a three-level scorer.
The intrigue with Oladipo coming out of college was that, despite being on the smaller side for a shooting guard at 6-foot-4, he's an explosive athlete who can get up the floor in a hurry and finish above the rim. The combination makes him a tough cover in transition, which he is putting on full display this season. The only players who have scored more points than Oladipo in the open court this season are Antetokounmpo, James and Klay Thompson, and he ranks in the 52.9 percentile with 1.07 points per transition possession.
By generating 23.2 percent of his scoring in transition, the Pacers take on a different identity with Oladipo in the lineup. They score 15.3 percent of their points on the fastbreak as a team with Oladipo on the court — a number only the Warriors can surpass on the season — as opposed to 10.7 percent when he is on the bench. Oladipo can push the ball himself and fill the lane in transition, making him an ideal fit next to Collison, who scores an equally high portion of his points in transition.

There are other factors at play as well. Oladipo transformed his body in the offseason by shedding as much as 20 pounds. He also worked on his ability to get his shot off in a variety of ways off the dribble to help him become a more complete scorer.
It's why there's reason to believe a lot of what he's doing is sustainable. It doesn't necessarily mean he's going to make 43.5 percent of his pull-up threes all season long, but he'll likely make them at a high enough rate for him to continue being the driving force on one of the league's best offensive teams.
If so, it completely changes how the Paul George trade will be remembered. As a former No. 2 pick in the NBA Draft who is under contract until 2020-21 with an annual salary of $21 million, Oladipo has quickly gone from having one of the worst contracts in the NBA to having a completely reasonable one.
Contrary to what everyone thought at the time, it's not a bad return for a four-time All-Star who was as good as gone in the offseason when he became an unrestricted free agent.