Depending on how you view Chris Bosh's spot in franchise history, the two best players to ever suit up for the Toronto Raptors are Vince Carter and DeMar DeRozan. The two high-scoring guards are forever linked by their impact on the organization, and over the summer, they became linked in one more way, as the circumstances under which they left Toronto were fairly controversial.
Carter's exit was controversial for the way that he handled things, although it now seems like both sides have moved past that and the Raptors are ready to welcome him back should he ever wants to return. The parting of ways with DeRozan, meanwhile, was controversial because of how the Raptors, namely president Masai Ujiri, allegedly promised the All-Star he would not get traded, only to flip him to San Antonio for Kawhi Leonard.
The saga was addressed on Thursday, as Carter hopped on a call with the media regarding his upcoming role as a broadcaster for the inaugural Jr. NBA World Championships later this month. Carter was asked about DeRozan's departure, which he could not believe when it happened.
"I think I just said 'Wow,'" Carter told the press. "That's it, simple as that."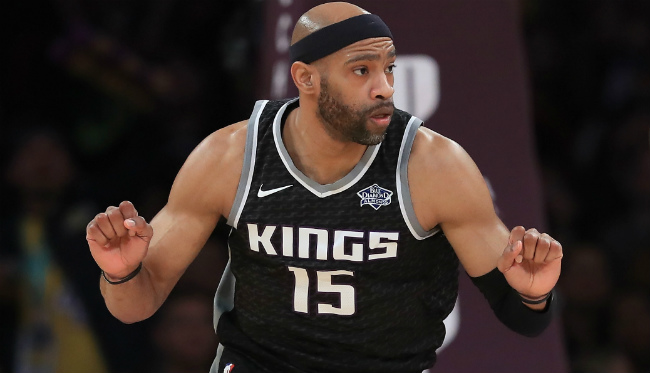 The future Hall of Fame inductee went on to discuss loyalty, pointing out that things are destined to change whenever a franchise has new decision makers, whether that means ownership, the front office, or anything else. In the instance of DeRozan, he was drafted by the Raptors in 2009, but Ujiri did not take control of the front office until 2013.
Carter went on to say that he believed DeRozan deserved to finish his career there, and that the Raptors merely "wanted to take advantage of an opportunity." He also expressed optimism about the situation in which DeRozan landed, saying that while he's "allowed to be" hurt by how things went down, he sees a player landing in an outstanding spot.
"I think he's already established himself as one of the top guards … and I think he'll take it to the next level, the next phase of players because of what Gregg Popovich brings to the table and what he brings out of players," Carter said. "You're getting a player that's not raw and in the learning stage, you're getting an established player who he can take to the next level, so that's scary."
So much of the intrigue with this trade, at least as it pertains to the future, revolves around whether Ujiri and the Raptors can convince Leonard to stick around after this season and forgo free agency. But as Carter pointed out on Thursday, it's not often that the Spurs get an established star, and it will be fascinating to observe whether DeRozan can achieve even more success in a place that's famous for getting the best out of its players.