The Golden State Warriors needed Monday's game against the Cleveland Cavaliers far more than their opponent. That is the nature of the beast when considering one team owned a four-game winning streak, including an infamous 3-1 comeback against the other. What actually transpired was far more than one team simply trying harder than the other on Martin Luther King Jr. Day in Oakland. The Warriors, in one dominant 24-minute swoop, sent a message to both the NBA and the Cavaliers that no team can match their ceiling when everything is going right.
This is, of course, not a stretch in and of itself. After all, the Warriors employ four of the NBA's top-20 players and, frankly, the roster is an embarrassment of riches. Still, Golden State has faced a great deal of skepticism for a team that now sits with a 35-6 record and the lion's share of that doubt stems from recent performance against their chief challenger from the Eastern Conference. There have been whispers of in-fighting between the team's top players, questions about the sacrifice of depth in favor of star power and even open inquiries about how Golden State's late-game offense should function.
On this particular evening, none of that mattered in the slightest.
The Warriors put together an utterly dominant performance in a 126-91 victory, to the point where the entire second half was simply the equivalent of exhibition play. Golden State finished the evening with an impressive 51 percent clip from the floor with 15 of 34 (44 percent) from three-point range and, for good measure, the team added 37 assists. Individually, Draymond Green submitted a triple-double (11 points, 13 rebounds, 11 assists, five blocks), Stephen Curry was quite good (20 points, 11 assists, four steals), Kevin Durant may have been the best player on the court and Klay Thompson filled it up (26 points).
Somehow, though, those full-game numbers don't tell the story with quite as much force of will as the team's performance when the contest was still in doubt in the first half.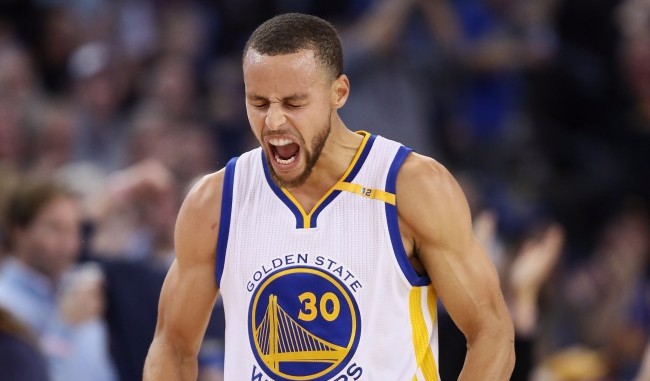 Prior to halftime, Steve Kerr's team put on a show to the degree that no team in the NBA can match. The Warriors generated a startling 26 assists in those 24 minutes, zooming the ball around with unselfishness and general precision. Curry took on something of a different role, compiling 10 assists (with no turnovers) before halftime, and the ball was in his hands quite a bit to provide an opportunity to pick up 14 points on 11 shots.
Durant simply did Durant things, racking up 19 points, five rebounds and four assists, while Green played the role of facilitator that he was born to occupy, dishing out eight assists and playing lock-down defense (four blocks) on the other end.
Quite simply, the Warriors were unstoppable offensively and suffocating defensively against the defending NBA champions. Golden State's offensive rating (148.7) before halftime was out of a video game and, defensively, they held the Cavs to less than a point per possession. The end result was a 29-point disparity that doubled as the largest halftime deficit of LeBron James' career and a full-blown announcement of what can happen when the most talented team plays like it.
This performance almost didn't happen, and that is certainly something to consider. The Cavaliers reportedly weighed the option to rest their entire "big three" of James, Kyrie Irving and Kevin Love in this game. At halftime, Cleveland punted to some degree in giving Love the remainder of the evening off with lower back tightness. In the same breath, the circumstances can only provide so much cover for the champs on a night when they were unceremoniously blitzed, and the Warriors even recaptured some of their infamous swagger when Green mocked James for flopping.
In terms of pure basketball, the Warriors executed in encouraging fashion. Curry's usage as a passer via pick-and-roll has been something that many pundits have called for and, especially during that first half annihilation, it appeared to be an emphasis. Golden State also did a phenomenal job of attacking Kyle Korver's defense, taking advantage of his lack of burst and the fact that it might be hard for Cleveland to fully hide the sharp-shooter in an extended series against the NBA's most talented bunch.
It is still (far) too early to write off the acquisition that brought Korver to Cleveland, simply because of the offensive ceiling that it unlocks for LeBron and company, but this wasn't the best first impression in the league's most prominent match-up.
Having Kevin Durant, Stephen Curry, Draymond Green and Klay Thompson (who put up a ho-hum performance in this spot) on the floor together is a recipe for fireworks and we've seen that at various points in their maiden voyage together. What we haven't seen, though, is the quartet, flanked by Andre Iguodala, Shaun Livingston, David West and others, operating at utter peak performance against top-flight competition. That took place on Monday evening and the results had to have been terrifying for the rest of the league.
Too much will likely be made of what transpired in the regular season finale between the Golden State Warriors and Cleveland Cavaliers, and that is what happens when the NBA's marquee teams match up only twice during the season. If you peek beyond the noise, though, the Warriors did make a very clear statement with their explosiveness and overall upside in this setting. Even if they wouldn't admit it publicly, it is probably safe to assume that the Cavaliers noticed.