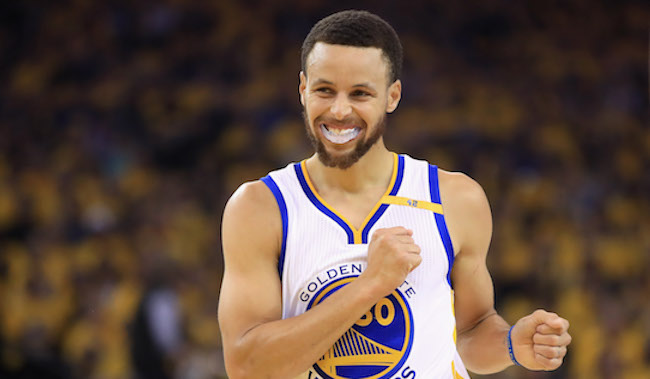 The Warriors are heavily favored to win their second round series with the Jazz, despite Utah winning the two teams' final regular season matchup in Oracle. Golden State seemed to get stronger during its first round sweep of the Blazers, and while the Jazz looked solid against the Clippers, few have faith in their ability to string together four wins against the mighty Warriors.
Vegas knows this, and the oddsmakers have placed Golden State as a ridiculous -10000 favorite to win the series at Westgate (note: the Cavs at -600 were the next largest favorite in the second round). For Tuesday night's Game 1 in Oakland, the Warriors were 13.5-point favorites and -2500 to win on the money line at CG Technology (which has moved significantly towards Golden State). In order to make any actual money off of either of those wagers, you would have to risk an insane amount. Because Vegas never fails to produce examples of degenerate behavior, there are indeed massive bets on the Warriors, both to win the series and win Game 1.
The first is my favorite, as someone at a CG Technology book has wagered $576,000 to win $36,000 (-1600), according to David Purdum of ESPN.
I would love to be around this person when the Jazz inevitably hold a lead in the fourth quarter and over half a million dollars is on the line for them. Then, there are some big bets on the Warriors' series price. Westgate's lone bet on the Warriors to win the series at -10,000 is a $50,000 bet to net $500, per Purdum. I love a good savings account bet, but this is a bit ridiculous. However, of all the reported bets on the Warriors, my absolute favorite is the person at William Hill that took the Warriors -7000 to win the series on a $200 bet, to net $2.85 if they win. Best of luck, to all you degenerates out there, rich and poor, willing to risk your hard earned cash for not a lot of return.