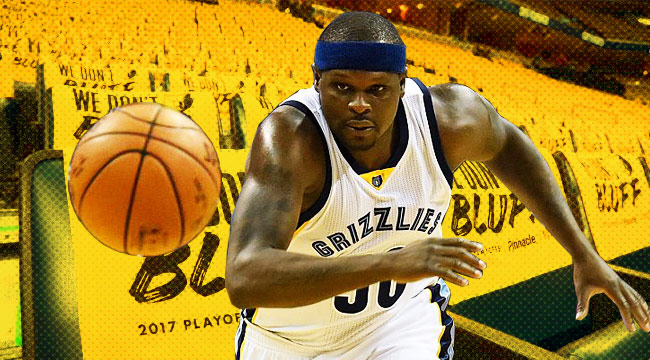 Downtown Memphis is in the midst of a massive revitalization project. No one's ready to call it a renaissance just yet, but over the past few years, developers have poured nearly $4 billion into transforming its various pockets of urban decay into a thriving center for local commerce. Crumbling warehouses have been renovated and transformed into boutique retail spaces, chic apartment buildings, and trendy restaurants. Filthy, crime-ridden streets once filled with vagrants and panhandlers are now populated by Midtown hipsters and happy families.
But gentrification, as always, is a double-edge sword. A city has to sacrifice some of its character to make way for the shiny and new, and the path to the future is always littered with roadside casualties, typically of the underprivileged variety.
The Memphis Grizzlies, more so than any other team in the NBA (and perhaps all of professional sports) have been an avatar for their city these past several years, the on-court embodiment of its hardscrabble existence and its rugged, blue-collar ethos. And the organization is now facing a similar fate.
The NBA is an unsentimental place, and the Sisyphean task of staying competitive in a rapidly-changing landscape forces difficult decisions, no matter where your loyalties lie. That's why, after eight seasons in Memphis, it was time for Zach Randolph to move on. At age 36, the Kings offered the former All-Star forward a great deal more than the Grizzlies would've been willing or able to.


There was no bitterness or resentment on either side, just the inescapable void left behind by his absence. The fact that it had been coming for some time still couldn't soften the blow. Head coach David Fizdale has done his best to preserve the team's Grit-N-Grind mentality, but he's also had to wrestle with the dual and oftentimes competing task of facilitating the team's evolution.
That's why he tried to push the tempo on offense, urged Mike Conley and Marc Gasol to shoot more threes, and asked Randolph to come off the bench, which he did willingly and without complaint. It's why Tony Allen's absence was barely felt during the playoffs this year and why the former All-NBA defensive stalwart might also be on his way out of town in free agency this summer.
That is, if he can find a suitor.
Allen, like Z-Bo, is a relic of a bygone era. But the legacies they leave behind in Memphis will remain untarnished. William Faulkner once said that we love despite, not because. Not because of the virtues, but despite the flaws.
Yet the opposite might have been true for both Z-Bo and The Grindfather. In Memphis, we like our heroes to be flawed; otherwise, we can never truly trust them.
When the Grizzlies signed Randolph in 2009, we didn't see the precocious scion of a contemptible Jail Blazers era who bungled his way out of Portland and was nearly relegated to a journeyman's fate after turning himself into a league-wide pariah.


Instead, we looked at him and we saw ourselves.
We saw a guy who, despite his reputation, put in yeoman's work in the post and was good for 20 points and 10 rebounds on any given night. We saw a guy who was hungry for another chance.
And when he got that chance, we saw a guy who spent all of his time and energy making sure he didn't squander it again, a guy who grew into not only a vocal and spiritual leader for his team, but a pillar of his community – a community that was willing to look past his shortcomings and allow him an opportunity to reveal his true character.
Grizzlies fans have a lot of memories of Z-Bo that we'll hold dear. We'll remember how he reminded us that ugly basketball can be a beautiful thing. We'll remember all the times he punked Blake Griffin in the post. And we'll remember how he once stood toe-to-toe with Kendrick Perkins – one of the meanest and scariest guys in the league – and threatened to whoop his ass, and meant it, and was ready to put his money where his mouth was.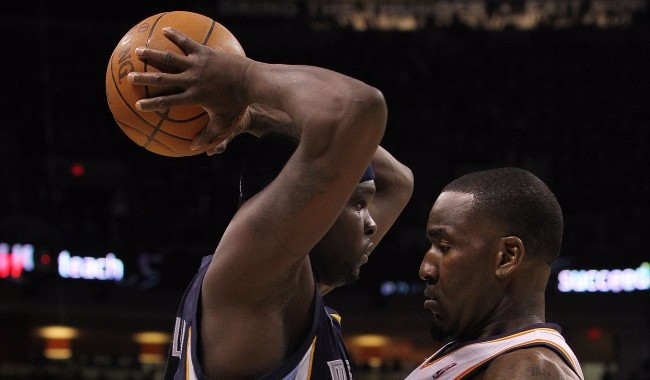 Speaking to reporters after that game, Randolph uttered the immortal words: "I Don't Bluff." Since that day, it's become the team's unofficial rallying cry, and it's been plastered across billboards, t-shirts, hand towels, headbands, and all sorts of other merchandise. Beyond that, it's forever emblazoned on the hearts of Grizzlies fans everywhere.
Owner Robert Pera announced on Thursday that the organization will retire Randolph's jersey, and when you look up into the rafters, it might not be hanging alongside any championship banners, but it'll be a constant reminder of the legacy he's left behind, that the spirit of this franchise is about bloody knuckles and skinned knees, and second chances, and minimizing limitations, that the grind is its own reward.
It's a spirit that will live on regardless of who's on the roster or who's sitting in the coach's seat or even the brand of basketball they put on the court. Because Grizz fans will never again settle for anything less.