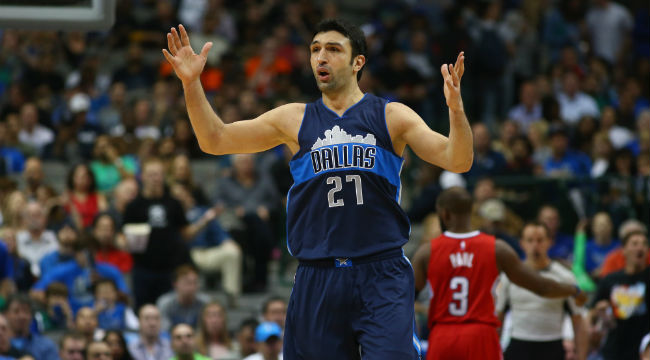 The Golden State Warriors had a pretty good day. The two-time defending Western Conference Champions made the biggest free agency splash of the summer by adding Kevin Durant. In order to make such a huge move, the team needed to move Andrew Bogut, who will head to Dallas for a future second-round draft pick. Between that and the fact that they chose to let Festus Ezeli walk instead of Shaun Livingston, the Dubs had a pretty big need at center.
According to Shams Charania of The Vertical, Golden State found a cheap, serviceable big man in Zaza Pachulia. He will reportedly join the team on a one-year deal worth only $2.9 million.
Due to Golden State's much-heralded death lineup that uses Draymond Green at center, the team didn't need to go out and sign a number of dudes who can play that position. But Pachulia is a smart addition for the 2015 champs, as he is a capable scorer, a solid rebounder, and a smart, pesky defender, the kind of guy who can slide into the role that Bogut has played without any issue.
Sure, Pachulia isn't as big of a signing as Durant by any stretch of the imagination, but he does give the Warriors a solid player at a position of extreme need. Let's see which cheapo veterans Golden State picks up next.