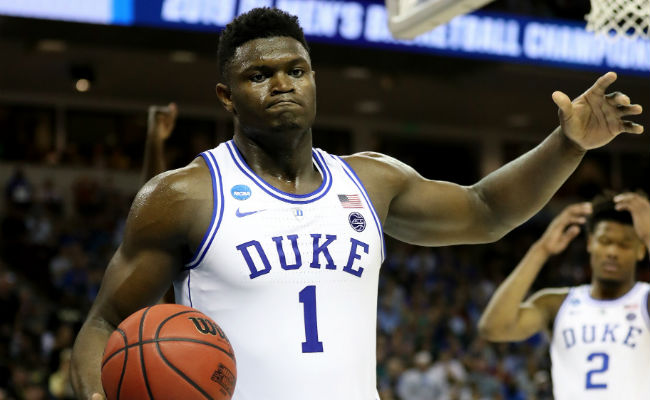 Before you yell at me for this headline, I am just a mere messenger of an actual rumor that, after the results of Tuesday night, always seemed inevitable.
With 10 teams locked in, Zion Williamson's future was between New Orleans, Memphis, Los Angeles, or New York, the latter two representing the NBA's two largest markets, a tantalizing proposition for the young superstar. Then the cards were opened and the Lakers and Knicks would pick fourth and third respectively, with the Pelicans landing Williamson as the heir apparent to Anthony Davis, provided he still gets his trade wish.
On Wednesday, Williamson's status as an agent-less, shoe contract-less draft prospect became more than a story of a patient top prospect and one of incredible speculation. As ESPN's Brian Windhorst noted on The Jump (to the dismay of Richard Jefferson), there is still an out for Zion to avoid going to New Orleans if he is not pleased with how the ping-pong balls have determined his future.

Windhorst is sure to hedge this idea pretty hard by noting there's no indication Williamson has this desire, but just notes there are those around the league that have whispered it could be possible. Marc Stein of the New York Times seemingly confirmed that those conversations exist about Zion's future.
Within all of this, it's important to note that this seems like the longest of long shots and, most likely, this will be resolved relatively soon when he does indeed make his intentions officially official by inking a deal with an agent and sneaker company. Williamson stands to make a significant amount of money this season, between his salary as the top overall pick (~$7 million in his first year and ~$33 million over four years), endorsements, and what is expected to be the richest rookie sneaker contract in history, Zion would have to pass on a ton in order to leverage his way out of New Orleans (with no guarantees he'd find a better situation in 2020).

Beyond that, the risk of going back to school to play for free is tremendous. There's the obvious injury risk, coupled with the highly unlikely (but still slight) possibility that he looks worse in his second year and becomes slightly less desirable. There are plenty that will also point to him damaging his reputation by making such a demand, but that has not been the case for some in other sports that have made such a power play, such as Eli Manning.
If we've learned anything over the last two decades in the NBA, it's that market size is far from the most important thing to making someone an icon of the sport. LeBron James, Kevin Durant, and Russell Westbrook all became gigantic stars while starting their careers in small markets. There's no doubt that being in a major market has its benefits, but in the modern era of League Pass, national broadcasts multiple nights a week, and instant highlights on social media, a player of Williamson's stature won't get buried in New Orleans.
There are absolutely examples of players getting undervalued because of the team they play on, but they are not players that came in with the pedigree or hype of Williamson. People may miss out on Mike Conley or Kemba Walker and not understand fully how good they are, but that is as much a factor of how they play as where they are. They deserve more recognition, but they don't produce anything close to the types of highlights one would expect out of Zion. He'll be everywhere and seen everywhere, no matter where he plays, for better or worse.
There are real questions to be asked about the fairness of the draft (in all sports) to incoming players — I've laid out an alternative in the NBA Academy previously — but it's exceedingly rare for a player to exercise this type of leverage because the reward rarely outweighs the risk. Williamson, should he establish himself as a transcendent star, could avoid losing a year of pay for added wear on his body by taking a qualifying offer in his fifth year and allowing himself to become an unrestricted free agent the year after, should he truly have a dismal experience in New Orleans. That would be a much wiser way to leverage one's star power, albeit also with some risks, than choosing to play another year at Duke where once again his fate would be determined by a lottery.