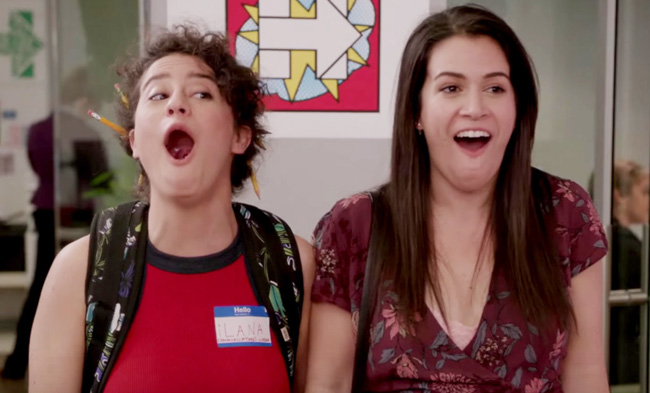 Broad City is, in a word, a triumph. Abbi Jacobson and Ilana Glazer's comedy about two women and their friends in New York City has been five seasons of hilarity, friendship and dentist humor.
At the very least, it will make you never think about the subway the same way again.
But the Broad City pair had some initial trouble getting their show pitch to a suitable home. And Jacobson revealed why FX, who was initially pitched the show, didn't want to put Broad City alongside a comedic gem like It's Always Sunny in Philadelphia. Jacobson is publishing a memoir, I Might Regret This, and according to FX the book details exactly why the cable network wasn't interested.

It's important to note that Amy Poehler served as an executive producer on the show. And Jacobson said it was Poehler's stewardship that helped the duo keep a level head and find the right home for the show, which eventually became Comedy Central.
"Amy reminded us that we didn't want to make the show at a place that treated us like a bad boyfriend. She said we'd find a home for it, somewhere that really wanted it, and she was right," Jacobson recalled according to Vulture. "I am so thankful FX passed, because we then took our misunderstood, 'girly' script over to Comedy Central and they got us completely."
So that's it: FX thought that Broad City was too "girly." It's kind of shocking, given that, well, yes it's a show that features two women as the main characters. Of course it's going to be girly. But it also illustrates just how big a gulf there is between the current landscape and it being normal that a show about two women talking like actual women can find a place to live on lots of different networks.
What's made Broad City such a success, though, is that it's accessible to an audience far beyond one gender while including extremely normal female things in the show. It makes you wonder how many other brilliant comedies we're missing out on just because a script seems gross or uncomfortable for old white network executives.
Broad City's final season is coming in 2019, and there will certainly be a void left in the market when it goes. Hopefully Jacobson and Glazer's success have changed some minds now that they've seen what's possible in cable comedies.