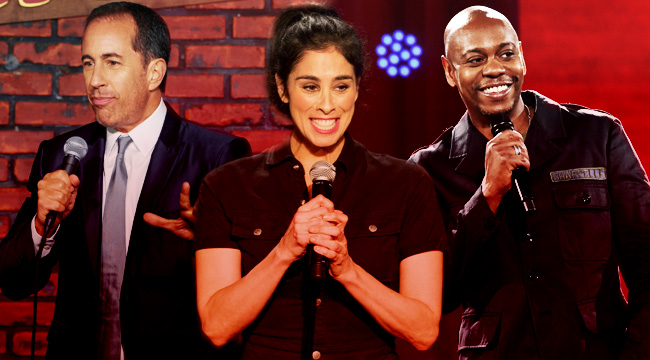 When Patton Oswalt's Talking For Clapping won the 2017 Grammy Award for Best Comedy Album, he wasn't the only Netflix comedian to get a nod. David Cross was nominated for …America…Great… as well. Both had previously released comedy specials with the streaming giant in 2016 (Oswalt's Talking For Clapping and Cross' Make America Great Again!), but neither was nominated for a Grammy. That's because filmed specials are not eligible for consideration as no such Grammy category exists for them. Convert these specials into albums, however, and you're as good as a golden gramophone.
This is precisely what Oswalt, Cross, and fellow nominees Tig Notaro and Amy Schumer did. Other comedians have done the same thing for most of the category's nearly 60-year history, and the 2018 nominees are no different. All five — Dave Chappelle's Deep in the Heart of Texas/The Age of Spin, Jim Gaffigan's Cinco, Jerry Seinfeld's Jerry Before Seinfeld, Sarah Silverman's A Speck of Dust, and Kevin Hart's What Now? — are albums based on specials. Unlike last year's nominees, most of these are former Netflix specials. What's more, the streaming service is directly responsible for the album conversions thanks to a new partnership with Comedy Dynamics. Netflix, therefore, might nab its first Grammy win on Sunday, but at what cost?
Consider the fact that Oswalt's 2017 Grammy win didn't go to Netflix. The company may have streamed the special, but the album was produced and released by Aspecialthing Records, a Los Angeles-based comedy label. They were the ones who garnered recognition from the Recording Academy instead of Netflix. Even Cross's nomination didn't go to them. (Neither did a 2016 nomination for Wyatt Cenac's Brooklyn, a Netflix special released as an album by Amalgamated Bear.) Instead, Cross self-produced and self-released …America…Great… on CD. This is also why these albums are all available to stream on music services like Spotify, but Chappelle and Silverman's are not.
Which makes complete business sense. Netflix wouldn't want non-subscribers to have streaming access to its exclusive content. The problem is, not releasing an album means they can never be eligible for the Grammy. Thanks to the Comedy Dynamics team-up, however, the company no longer finds itself left out. As the Wall Street Journal reported last month, Netflix "submitted a dozen of its original stand-up comedy specials to compete as comedy albums." All were vinyl LPs, most of which were released a day before the September 30th submission deadline, and they were only available for purchase via Amazon. Chappelle, Silverman, Gaffigan, and Seinfeld's specials-turned-albums were all a part of the mix, as were conversions of Amy Schumer, Marc Maron, Neal Brennan, and Trevor Noah's specials. In other words, Netflix found a loophole.

Just as quickly as their domestic and international subscribers (and overall valuation) have skyrocketed, so too have Netflix's chances of winning a Grammy. Technically, they went from zero to four nominations in a single year, though one could argue — as evidenced by Cenac and Cross' nominations, and Oswalt's win — that it actually took at least two years to happen. Either way, it's clear that Netflix's hold on the Best Comedy Album category is here to stay, as its grip on the current comedy boom won't be loosening anytime soon. In addition, its ability to attract the likes of Tracy Morgan, Chris Rock, and Ellen DeGeneres will undoubtedly ensure its good standing with the Recording Academy, whose membership includes more "musicians, songwriters, producers, engineers, and recording professionals" than comedians. These names are known to everybody, whether or not they've kept up with the stand-up scene.
So will Netflix win a Grammy on Sunday? Probably. Statistically speaking, they stand an 80 percent chance of taking home the comedy trophy. And of the five nominees, only three have been recognized by the academy before — Seinfeld (1999), Gaffigan (2013 and 2015), and Silverman (2015). Chappelle and Hart are both newcomers, and none of the 2018 nominees have ever won a Grammy for this category before. Despite Hart's substantial popularity across multiple mediums, with the other four comics all pulling for Netflix, the numerical and historical odds are assuredly in Netflix's favor. And good for them! With all the money they've been spending (and losing) on original programming, comedy has become one of its most popular.
The question is, what does Netflix's Grammy domination mean for stand-ups who aren't on their payroll? If a comedian is as well known as Kevin Hart, then maybe they will still stand a chance of getting their comedy album in front of academy members. But if they're not, and if they find themselves working with smaller production budgets and labels, then what chance do they have? Even notable names touted by sizable entertainment entities, like Pete Holmes and his fantastic HBO special-turned-Comedy Dynamics album Faces and Sounds, weren't nominated. Which is disappointing since — including the 2018 nominees — there were a lot of great comedy albums this past year.
Holmes' Faces and Sounds was one of the best stand-up specials of 2016. Later released on CD (July 28th, 2017) and vinyl (September 15th, 2017), the follow-up to 2013's Nice Try, the Devil helped cement the Crashing comedian's stature as one of the genre's preeminent — if not often wacky — voices. Both the special and the album earned Holmes rave reviews across the board. Even so, the critical acclaim and industry support still weren't enough to propel Faces and Sounds into this year's cadre of Grammy nominees. It worked for fellow HBO comic Amy Schumer's Live at the Apollo the year before, but not for Holmes.
It didn't work for Saturday Night Live darling Pete Davidson either, whose first comedy special SMD debuted on Comedy Central in late October 2016. It was released as a streaming album by Comedy Central Records shortly thereafter. No CD or vinyl versions were released within the Grammy's submission timeframe, but new rules instituted before the 2017 awards allowed for streaming audio submissions. This is how Schumer's Live at the Apollo was submitted, and it very well may have been how Davidson's SMD was submitted. Despite the young comic's significant exposure and worthwhile comedy chops, however, he too wasn't nominated.
Even if Holmes wasn't recognizable enough and Davidson was too young, a lot of great comedy albums from names known (and not) came out in late 2016 and 2017. From alternative comedy pioneer Janeane Garofalo to ex-SNL cast member-turned-comedic force Sasheer Zamata, the pool of potential Best Comedy Album nominees for the 2018 Grammys was quite large. Longtime veterans, practiced journeymen and women, and promising novices were all a part of the massive mix that included a whopping 176 album releases by mid-December. But in the end, when competing for a Grammy nomination and possible win, it now seems name recognition isn't the only tool necessary to achieve any stature in the eyes of an academy whose membership likely includes mostly Netflix subscribers.