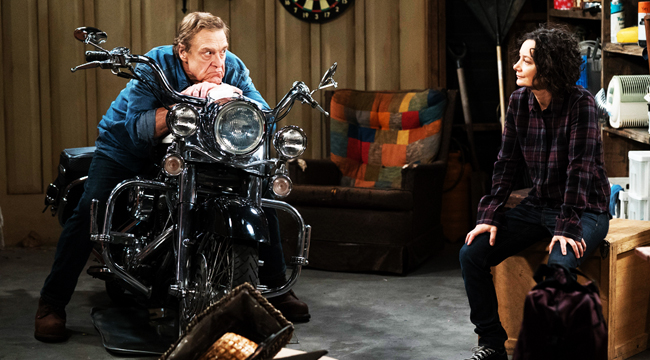 It's hard to separate Roseanne Barr from Roseanne. She co-created the show and stood at the center of it through its original run and its attempt at a comeback. When that new version painted its main character as a Trump supporter and superficially focussed (too much?) on a deep political divide that is cracking dinner tables in half across America, it was a decision that was seemingly born from Barr's own political shift. And yet, at the dawning of a Roseanne-free spin-off born from necessity following the comic's racist and controversial Twitter implosion, everyone remaining who is responsible for the success of the original (and ABC) needs there to be some daylight between The Conners and Barr.
That didn't happen in a premiere episode that primarily dealt with Barr's absence while also setting the tone for the future. What was learned about what comes next? Who is the focal point now? And does the show still have an edge despite the name change and the exit of its star? Here are a few spoiler-y thoughts on the premiere of The Conners and those specific questions.
Still Weighty
It says a lot about the direction of the show, going forward, that they chose to connect Barr's absence and her character's death to a very timely topic (the return of a hidden opioid addiction tied to the high cost of healthcare and economic pressures long at the center of the show) that sparked complex emotions from the show's other characters.
The original Roseanne earned praise for the frank and digestible way it dealt with divisive issues when they popped up. Last season's approach didn't get the same reaction, but it's clear that the want was still there to play in that sandbox and the premiere of The Conners shows that that may still be true.

A Sense Of Timing And A Sense Of Purpose

Putting the characters three weeks out from Roseanne Conner's death makes a lot of sense. Being in the immediate aftermath would have drenched the show in grief and sadness with no possible space for lightness. With that said, The Conners doesn't really find its footing until it becomes clear that Jackie (Laurie Metcalf) is trying to distract herself with busy work, Darlene (Sara Gilbert) is struggling (and hesitant) to assume her mother's role as family support beam, and Dan (John Goodman) is looking for someone to blame.
Yes, it's a comedy, but the show finding its way to funny was never really in doubt. Finding an identity for these characters in this new show, (even one initially tied to Roseanne's death) was. And in those human moments, those characters found their purpose (for now).
Dan's Journey
Dan's rage and impatience is a focal point in the premiere and his reaction to the woman (Mary Steenburgen, doing a lot with a little material in a pivotal moment) who gave Roseanne the drugs that likely led to her death is the episode's most powerful moment. Focusing on his grief and the lengthy process of acceptance makes a lot of sense but the smartest decision the writers made in this first episode may have been Dan's breakthrough with his young grandson.
Dan is sleeping on the couch to avoid his and Roseanne's bedroom and he's eager to reach for a can of beer and run out of a room to the seclusion of his garage rather than deal with people. He needs to pull someone close to him and not be cold despite the loss of his wife. Dan does that by making Mark feel loved and supported, helping him decide between two boys that he has a crush on.
Goodman absolutely nails the different postures required of Dan's tricky transformation from a husk-like state of depression to a drum full of fire and a gentle giant (with Mark and also with Steenburgen's character, who he makes sure has a way home after arguing with her). Dan is veering all over the road right now, but his actions and the episode's ending make it clear that he's on the right path.

The New Family Dynamic And The Show's Chance For Success
In a statement released following the premiere, Barr offered support for the cast and crew but again protested her dismissal and the way her character was written off the show (specifically, the opioid angle). She also said that "above all else, the show celebrated a strong, matriarchal woman in a leading role, something we need more of in our country." And she's absolutely right. But while Barr was bemoaning the loss of her character, she may have ignored the clear sign that Darlene is poised to take her spot as the show's lead.
As a single mother with a collection of dashed dreams, economic hardships, and fresh family responsibilities
Darlene is well suited to give the show a focal point that is relatable, strong, and, in all honesty, more interesting than Roseanne. Darlene is a single mother with a collection of dashed dreams and economic hardships. She also has a new batch of family responsibilities due to her mother's death because, as the premiere makes clear, no one else is capable of or willing to step up in the way that she's going to have to. The possibility for conflict between her, Becky (Lecy Goranson), and D.J. (Michael Fishman) is ripe and, like the challenge of finding humor within the grief process, presents an opportunity for the show to go to some places that network sitcoms rarely do.
It feels weird to make it seem like there are positives in this situation because the tweet at the heart of Barr's exit caused so much outrage and pain. Still, the fundamental changes to the show may, ultimately, allow it to break out of the nostalgia box in a way that it may never have with Barr still drawing a large amount of attention while also influencing the show's direction. (Which is to say nothing of a polarizing personality that kept some people away.) Maybe actors like Gilbert, Metcalf (who didn't get much meat in the first episode), and Emma Kenney (who plays Darlene's daughter and who has a lot of experience as an occasional narrative driver on Shameless) get to do more heavy lifting. Time will tell, but the first episode of The Conners shows that it's worth keeping an eye on.