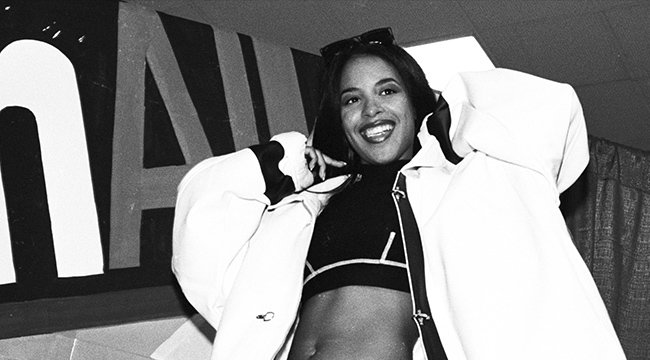 Aaliyah recorded her first album Age Ain't Nothing But A Number at 14. With a mature voice and quiet confidence that belied her youth, it was easy to take for granted that she was going to be a force to be reckoned with for years to come. But when it happened–when her light was snuffed out without a word of warning–her ascent hadn't yet reached its peak. Her life ended when she was finally becoming who she seemed to always know she would be.
One of the singer's close friends, Kidada Jones, said in her Rolling Stone obituary that "[Aaliyah] really settled into her womanhood. Her parents gave her more freedom, and she took more control of her projects." In 2001, Aaliyah didn't just sound mature. She was mature. Her confidence was no longer quiet. She took the reigns of her career, led it into bigger hits and a burgeoning film career. It wasn't supposed to end like this, before it even started.
Aaliyah died on August 25, 2001, and its effects are still evident on both small and large scales. In a 2014 interview with The Wrap, Aaliyah's cousin and President of Blackground Records — the music label that released all of her albums — Jomo Hankerson said "I believe that she's a cultural icon for us, that she was legendary in her short career. I think it was obvious, the career track that she was headed on, and I think that you still see her influence in today's music."
When I think about how I reacted to her passing in 2001, I think of it as the bottom of a long, aimless, descent into depression. All of the bumps and knocks I took along the way hurt more and left more lasting marks, but Aaliyah's death — though not directly related to my own woes — was the moment when the shock wore off, the pain fired from every synapse of my psyche, and I had no choice but to take stock of what happened.
When I recall it now, I am embarrassed at how selfish I felt. I went through one of the hardest times of my life when I lost a close family member just months before, and couldn't see anything clearly through that opaque veil of sadness. So when the news of Aaliyah's plane crash in the Bahamas surfaced, I didn't think of her fans, her friends, or even her own family. I thought of it as another horrific thing that happened to me.
Another person who used to make me smile is gone; just my luck. But Aaliyah's death didn't just happen to me.
***
Of course fans like me felt the impact of her loss, but most importantly, her death happened to her parents. It happened to her brother Rashad.
In September of 2000, they flew together from Australia, where she was filming a movie, to New York so she could accept an MTV Video Music Award. The clip for her slinky jam "Try Again" won Best Female Video, beating out Britney Spears who'd just traded in her Mouse ears for the Catholic school uniform that rocketed her into fame.
The following year found Rashad in Australia again. This time he was alone while his sister shot scenes for what would be her final video, "Rock The Boat," in Miami and The Bahamas. They were so close, and he was such a big part of her professional career, that he could have very well been on that plane with her. But he wasn't this time. He never saw his sister alive again.
Aaliyah's death happened to Dame Dash. The anguish in his voice was palpable in the days after her death. Calling in to MTV, he expressed a level of emotion that the public hasn't seen from him before or after.
Years later, mentioning Aaliyah's name seems like one of the few things that cracks through his protective armor of fast-talking aggression. In a 2011 interview with Billboard, he talks about how close he was with his late girlfriend:
We'd be in a room full of people talking to each other and it felt like everyone was listening but it would be just us. It would be like we were the only ones in the room," Dash recalls. "It was like something was going down in history every time I was with her. Every time I was around her I felt it was the place to be."
Fifteen years, and he still has never fully recovered. He said her death and the death of his mother are what turned him into the "monster" we see today.
Her death also happened to music in general. Her unique style. The way her voice hovered over Timbaland's off-kilter production like a rock star crowdsurfing a throng of unpredictable fans. Her absence left a deep chasm in the music world that has yet to be filled.
Artists try to mimic her sweet mysteriousness. They sample her voice just to hear it again. You see her in others — in fleeting moments. Rihanna's detached cool. Ciara's choreography. Drake's vulnerability.
She was only 22 years old when she died. Barely old enough to drink. But she told us from the beginning that age ain't nothing but a number. In her brief time with us, she caused ripples that continue to expand further and further with every year that she's been away.
Stepping out of the dark shadow of R. Kelly into independence, womanhood, and agency she was the Houdini of black girl magic. She escaped then emerged — if not unscathed, undeterred — serving as an example for all those that followed. It has been fifteen years, but we haven't forgotten you Babygirl. Rest in peace.