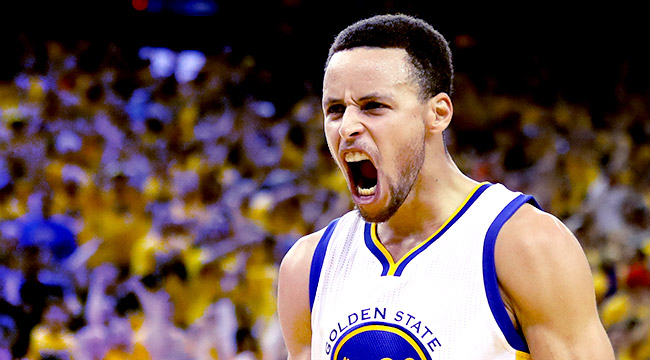 Stephen Curry is one of the best on the basketball court right now and this isn't up for debate. We need look no further than his back-to-back MVP titles and his championship ring – perhaps plural soon — to squash any arguments to the contrary. When a player reaches that level of greatness, he begins to inspire others beyond the game and, in Curry's case, his influence has found its way into song lyrics in countless songs. Rappers want to shoot like Curry, knock their opponents off like him, and do it all so effortlessly just like Golden State's number one Warrior.
With that in mind, we decided to dig through a handful of rap tracks to highlight the many ways in which artists used Steph's name, number and nasty skill set in their rhymes. What you'll find is that his hallowed greatness is becoming the new standard for what it means to be the best, be it on the court or in the booth.
Fat Joe, "All the Way Up (Remix)"
"I just dropped the biggest of checks, and the sh*t cleared
When everybody counted us out just this year
Uh, I'm Steph Curry in the clutch
Take a shot of this Royal Elite and go all the way up"
One of the year's biggest remixes wouldn't even be complete if it didn't call out best player in the game, even if he wasn't a Knick or a Net.
Quavo, "How You Say"
"You tellin' me that you been in the field, but you not a shooter, fake Steph Curry"
One of the Three Wise Migos used Steph's name to call out fake hustlers and busters for frontin'.
Future, "I'm the Plug"
"Really I'm the plug, really I'm the plug
I dropped a few whoopty whoops in my cup
Put it on my tab, put her on my tab
Franchise tag on me Bron Bron
Steph Curry wrists, n****, Oakland
Percies for the b*tches Bishop Magic Don Juan"
Future's run of recent years may be the only one that can hold a candle to what Curry's done. Here, he manages to work in a reference to both LeBron and Steph, citing the latter's post-shot form as a sign of his can't miss abilities.
Lecrae, "Cruising"
"Went to the park to get the scoop
Saw the home boys out there shootin' hoop
And my shot kinda rusty but the fade clean
And me and Steph Curry on the same team
Win it like back to back
Nobody really want it after that
Feelin' like a young Doctor J
They can't stop the J, they can't block my pace
It's true that they can't stop the rain of my shot today"
Taken from his Church Clothes album, Lecrae's "Cruising" gives a nod to Curry and both guys decision to wear their faith on their sleeve proudly in public. Lecrae takes it a step further by nestling the reference into a verse that finds him on the court flexing his own skills.
E-40, "Choices (Yup) (Warriors Remix)"
"Sloppy with the rock? (Nope)
Steph Curry with the shot? (Yup)
Suckers? (Nope)
Splash Brothers? (Yup)
Ain't no stoppin' (Nope)
Klay Thompson? (Yup)
Under pressure, is he chokin'? (Nope)
Do it big like Bogut? (Yup)
Never let 'em tell us that we can't (Nope)
Go hard like Barnes in the paint? (Yup)
Never ever slowin' up the pace (Nope)
Shoot a three-pointer in his face (Yup)"
E-40's the godfather of Bay Area rap so it was only right that he create an anthem for the team and their fans. His "Choices" single managed to catch so it only made sense to put a Warriors twist on a good thing to make it great for area residents.
Lil Wayne, "Fat Albert"
"Bad b*tch stop and poppin' like Steph Curry
Rich n**** laughin' at his bills like Bill Murray"
Oh, that Lil Tunechi. Leave it to him to incorporate a woman into his Curry reference.
Damian Lillard, "Soldier in the Game"
"My life came full circle at the park was throwing left hooks
Now I'm in the league with Steph Curry and Russell Westbrook
Took a couple bumps boy you never would see my chest shook
My heart came from a lion this path only the best took"
Dame D.O.L.L.A.'s very nice on the mic and on the court. In fact, he may end up being the best rapping-athlete we've seen when all is said and done. Here, the Portland Trail Blazers star takes Future's "Commas" for this track that tackles how he handled adversity to become one of the best point guard's in the league, citing Curry and Westbrook for comparison purposes.
Lil Uzi Vert, "Safe House"
"Steph Curry with the ball status
Swerving swerving round in all traffic"
With kids loving Uzi, the Philly product has been blowing up in the past year and change, following a similar trajectory as the hooper he shouts out in this line.
The Game, "Just Another Day (The Documentary 2)"
"I crossover like Steph Curry, crossover like CP
But I will not crossover so niggas can buy the CD"
What would a list of namedrops be without the king of namedrops in it? The Game's known to reference others in his rhymes and on this Documentary 2 track he uses the baller's name to make a statement about his plans to keep it all the way 100.
Kehlani, "Champion"
"Steph Curry for the win, boy
And I'm Curry with the pimp, boy"
Kehlani's another Yay Area resident so it's fitting she reference Steph. We will not use that last line to make any references to PartyNextDoor or Kyrie Irving because the focus here is all about showing love to Curry.
Drake's "0 to 100/The Catch Up"
"I been Steph Curry with the shot, Been cookin' with the sauce, chef, curry with the pot, boy"
When the headline popped up, it was automatically assumed Drizzy's line would be included, right? The Drake Effect came into play here, bolstering the shooting god's rap relevancy to peak levels. So much so that he and his wife created their own bangin' remix.
All lyrics couresty of Genius.