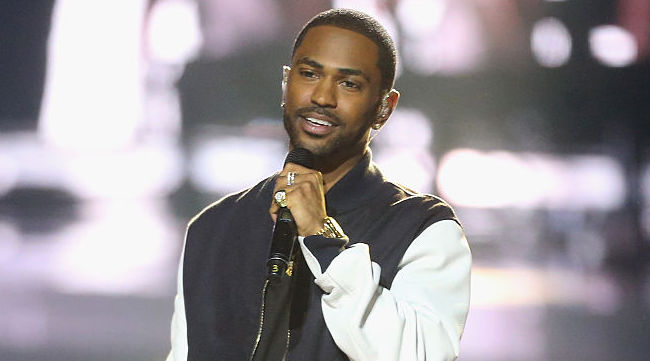 It's been a minute since Big Sean released new solo material. Sure, Twenty88 got a lot of love back when it released in April and he's popped up here and there on loose tracks, most recently with 2 Chainz for "Light It Up," which landed on Kevin Hart's What Now soundtrack, and absolutely stole the show on Khaled's "Holy Key." But there's been nothing with Sean Don going at it for dolo, all of which changes with the release of "No More Interviews," produced by Metro Boomin' and Amaire Johnson.
The track finds Sean taking aim at his favorite targets: haters and gossip-mongers. One of the recipients of Sean's ether would be Naya Rivera, his former flame who he claims "wanted to write a tell-all, but funny thing is she ain't even tell all." Yes, he's back on her and he admits that last time was supposed to be the last time…so this won't be the last time. But, his say-no-names bars directed at a certain former friend(s) will garner the most eyes.
"So many friends turn to enemies, they frenemies
I don't know why I act like I'm surprised or it's offending me
I'm saying tho I should have learned from Hov and Dame
From Stunna and Wayne, Cudi and Ye
What happened to our family ways though
When I put you on that song with Nas you had told me that you was forever grateful
And that we brothers, so it hurt to hit the internet to find out that me and you don't fuck with each other
Over a miscommunication that probably could be fixed with a 5 minute conversation, I'm still praying"
Then, there's a whole other set of lines that sound like a thinly-veiled shot sent in the direction of…well, just check it.
"I'm not impressed with the whoopty woop, I don't know who is who
And can't pretend like I'm hip to it, no hula hoop
And I can't lie like I like this shit like I usually do
And I'm just not impressed by you niggas rapping fast
Who sound like one big asthma attack but trash when I'm rapping it back
Who you put in your top five and claim they the savior of rap"
Sounds like he's still feeling a certain type of way three years after "Control" shook up the game.
He best sums it all up with "I'm a king, a legend, man you n****s ain't worthy, 10 years in and a n**** still under 30." That might be a stretch but since half these kids are cribbing his style, he can make the claim and have a leg to stand on, albeit a shaky one.
Sean looks to be working his way towards releasing a new LP. Back in August, he posted a pic with Jay Z on Instagram that included the caption "Going thru my fourth album with one of the masters. Almost ready. Been clique since #Clique." He also shared another photo that showed him with music guru Rick Rubin. Whatever it is, if it hits comes off as strong as "No More Interviews," we have another G.O.O.D. project to look for to.
Update: With the wind behind his back and the tweets talking heavy about "No More Interviews," Sean decided to unleash another new track titled "Bounce Back," produced by Hitmaka and Smash David with additional production Metro Boomin' and Amaire Johnson again. Expect to see Sean performing the track Monday night on The Tonight Show Starring Jimmy Fallon.