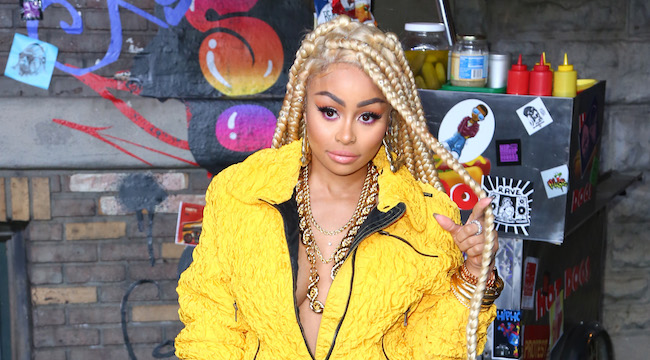 Angela White — better known as Blac Chyna — is suing the Kardashian family claiming assault, battery, domestic violence, defamation, and interference with prospective economic relations, according to Page Six. The suit is primarily filed against her ex-fiancee Rob Kardashian, with whom she's had a tumultuous-bordering-on-acrimonious relationship and a now-defunct reality show. The suit names each member of the Kardashian clan, including Rob's mother Kris Jenner and his sisters, Kim, Khloé, and Kourtney Kardashian, along with Kendall and Kylie Jenner as well.
In the suit, the aspiring rapper's legal counselor Lisa Bloom states "Rob Kardashian is an abuser intent on destroying Angela White, the mother of his baby, who left him in 2016. In revenge, the Kardashian-Jenner family became media predators, slut-shaming her on social media and killing her hit television show [Rob & Chyna], which had already begun filming a second season."
Chyna also alleges that Rob physically abused her, "violently knocking" her to the ground during an incident when she tried to call her other child's father, Tyga. Meanwhile, Rob and Kylie previously filed their own suit against White, claiming she tried to strangle him with an iPhone charger and trashed Kylie's house.
Chyna's suit also specifically references the illegal and distasteful nude photos that Rob posted of Chyna on his Instagram back in July of this year. In a statement to Page Six, Bloom stated she "will aggressively prosecute this case until we get justice," noting that the accusations alleged in the suit are as serious as it gets: "Revenge porn is wrong and illegal. Domestic violence is wrong and illegal."