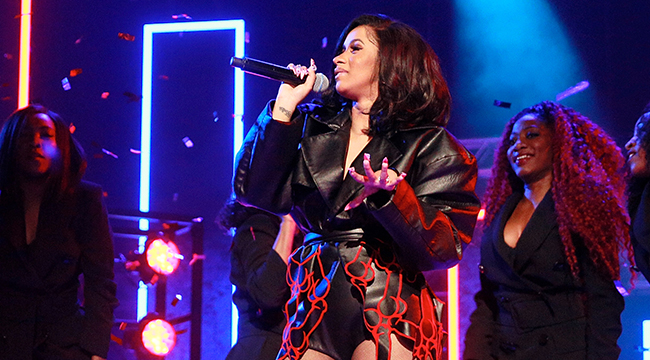 Almost weekly, rap's newest, most rambunctious and boisterous sensation Cardi B is setting more Billboard records. It all began when her surprise smash "Bodak Yellow" skyrocketed to the top of Billboard's Hot 100 songs chart, finally grabbing the No. 1 spot in late September. It was truly a historic moment, as Cardi became the first female rapper in nearly 20 years to have the No. 1 song in the country, and Cardi was as unlikely a success story as there has ever been. The 25-year-old Bronx native was as improbable a star as there has ever been, making the leap from exotic dancing, to reality television to Billboard royalty in a few years.
Over the next few months Cardi continued making history, landing her first three singles in Billboard's Top 10, both separately, then just this week, simultaneously, placing her amongst legends like The Beatles. Any indications that Cardi's success was a fluke have been proven false, with a dominant and history making run, but the Cardi B Era may not be all what it seems.
Cardi's run just so happens to coincide with a random absence of new hits in the fourth quarter of 2017. There are various factors, but what remains clear is that new songs just aren't catching, and Cardi has seized the opportunity for sure, but she's also the beneficiary of a random chart anomaly that undoubtedly helped her make history to close out 2017. Of the songs in Billboard's most recent Top 10, the average is 18.8 weeks on the chart, and the number continues to grow the deeper you get into the chart. Cardi represented the only two new songs in the Top 60, with her new single "Bartier Bardi," and her guest spot on Ozuna's "La Modelo."
The dearth of new hits in the fourth quarter comes from a myriad of reasons. Eminem's massive flops and lack of singles makes for a big piece of the pie. While Shady did hit No. 1 on the albums chart, his singles were largely panned and ignored, and that condemnation of his latest work led to several spots that would normally be reserved to be vacated. While Eminem flopped critically and commercially, the general lack of star power with plenty of other big names punting on late 2017 also explains some of Cardi's chart dominance. Taylor Swift stopped releasing follow up singles soon after her chart-topping Reputation.
In rap, Future, Jay-Z, Drake and Kendrick Lamar's albums were months old as December rolled around, even though Kendrick continues an ascension up the Hot 100 with his latest and most commercially accessible DAMN single "Love." Heavy hitters like Beyonce or Adele took all of 2017 off, leaving a massive void on the charts in their absence. Cardi's most direct completion, the chart-dominating Nicki Minaj also took most of the second half of 2017 off as well after tepid responses to her own singles in the summer. Her appearances on the Hot 100 are either with Cardi on "Motorsport," or past the Top 30 in guest appearances.
But that's not to say Cardi is a fluke, or a complete result of hitmakers simply refusing to make hits, if anything Cardi's dominance is a testament to her work-rate, and her ambitious approach to bucking the one hit wonder trend. She could have rested on her laurels, basking in the success of "Bodak Yellow," quietly biding time until she had an album ready to release and capitalize on the success of the single. Or, like 2016's biggest one hit wonder, Desiigner, she could have rushed it all, pushing out an unoriginal mixtape that eventually was lost amidst a bevy of summer releases and stumbled.
Instead, Cardi continues to churn out hits, or at the least, interesting guest appearances, as she develops as an artist that is truly in the infancy of her career. She's cultivating a rabid fanbase that is clearly eating up anything she decides to attach her name to. With "Bartier Bardi" poised for a run at the Top 10 after an impressive debut at No. 14, her run doesn't look to be slowing down either. Plus, Cardi is on fellow chart-topper Bruno Mars' latest single, the "Finesse" remix, giving her a possible fifth Top 10 hit in five tries, surely another historical landmark.
Even with a few beneficial circumstances, it was still up to Cardi to grasp her opportunity and make the best of it, and she's more than done that in her run. Remember, to top Billboard's chart to begin with she had to knock Taylor Swift off her well-earned pedestal, an achievement even Taylor had to appreciate. Since last summer, Cardi has proven she's a veritable hitmaker, and a lasting force to be reckoned with. Did some pieces of the puzzle fall in her favor? Of course, but from there it's been nothing but money moves and Belcalis Almanzar proving the ever-popular first line of the "Bodak Yellow" chorus to be nothing but true.