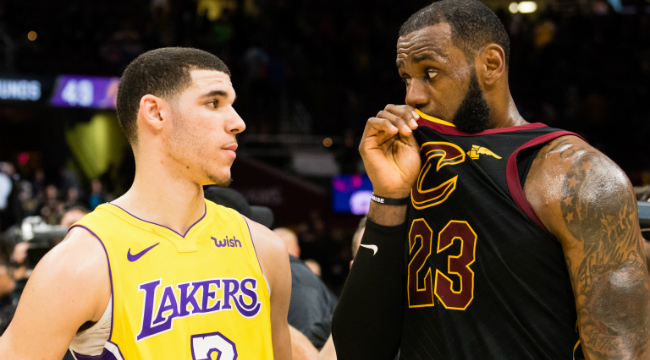 Of all the feuds in hip-hop, Lonzo Ball vs. Nas' may be the most innocuous. The issue started when the Los Angeles Lakers' point guard took to Twitter to declare that "nobody listens to Nas anymore" and that Migos and Future were "real hip-hop." After Nas' manager called him an "oatmeal face" who Nas has never heard of, Lonzo was pictured wearing a "Ballmatic" shirt which showed his face on Nas' famous Illmatic cover. He then unveiled the hoodie version of the design on Tuesday night before his game in Nas' hometown of New York City vs. the Knicks.
The Cavs played 3 Nas songs in a row during their warmup against Lonzo and the Lakers. ? (h/t @pepitoz_) pic.twitter.com/vdD6HIp6AS

— Legion Hoops (@LegionHoops) December 15, 2017
Nas has yet to reply directly to Lonzo, but he did shoutout the Knicks for beating the Lakers. It's a testament to his standing in the rap game that plenty of people are speaking for him to this point. There are his hoards of fans. Then there was his manager. Fellow Queens rapper Lloyd Banks even got into it, calling Ball "disrespectful." Tonight though, the Cleveland Cavaliers decided to have some fun with the one-sided feud by playing three Nas songs consecutively while Ball was warming up before their game.
https://www.instagram.com/p/Bcn2KOjjDPA/
A fan happened to catch a brief clip of the Cavaliers PA playing "Nas Is Like" – which was most likely an "A&R Bron" decision. He trolled Lonzo earlier this year by mimicking his unique shooting motion during warmups, so there's precedence here. After the game, he dapped Lonzo and gave him some advice though, so it's all love.
Hopefully, that'll be the case as well when Lonzo and Nas eventually cross paths.