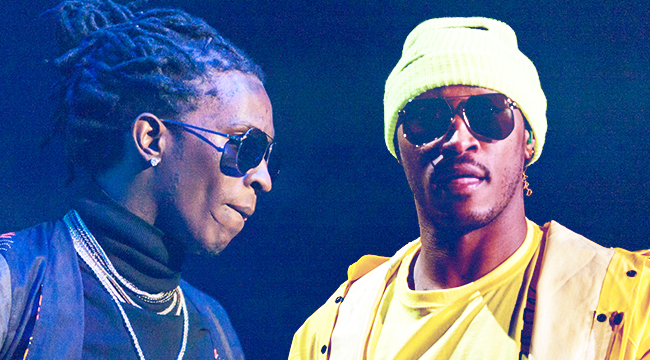 Thanks to culture, infrastructure, and opportunity, Atlanta has been churning out unique, talented, and hardworking rap stars for decades now. It's a lineage that includes the likes of Outkast, T.I., Ludacris, Gucci Mane, Jeezy, Migos, Killer Mike and more, giving ATL as rich a history as any city on the map, with a wide-ranging cast of rap giants. Never before has the hierarchy of the city's current crop of superstars been as well-defined and understood: Future is undoubtedly the biggest artist in Atlanta's right now and Young Thug is by far the most intriguing, so the two of them together on a joint album, at last, is a coup, to say the least.
For years these two acts have existed separately as singular entities cutting their teeth and gradually building up their respective claims as the king of Atlanta and the rap world as a whole. For Future, commercial success is now commonplace as he constantly bumps shoulders and shares airwaves with pop stars and has forged his own lane beside the Drakes and Kanye Wests of the world. For Thug, that commercial success still eludes him, but he's been lauded critically and attains success by other means as his label figures out how to trigger his leap from national curiosity to superstar.
Now, those massive forces exist as one, as Thug and Future deliver Super Slimey, their long-rumored and much-anticipated collaborative album the world has been waiting for.
What Thug and Future offer as a collective is an intriguing mix; they've slowly burrowed their way into separate sonic spaces since their first collaboration three years ago, on the blaring, Metro Boomin-produced "Chanel Vintage." Thanks to their mastery of melody and willingness to experiment, both have landed in zones where they'll sing and warble more than rap, each offering albums that are more R&B than anything else this year. But almost none of that is found on Super Slimey, where Future and Thugger both chose to step on the gas and pump energy into their tracks instead.
To do so, they dip into their stash of the finest production Atlanta has to offer, and oddly enough, Metro isn't one of the producers listed amongst the 13-track album's liner notes. Instead, they lean on the likes of Southside, London On Da Track, Mike Will Made-It, TM88, and more for the album's energetic sound. The rare occasion when the duo does take a second to breathe and unfurl their melodic deliveries is on "200," it's thanks to Thug's go-to producer Wheezy and the 808 Mafia's Tre Pounds. The track is the album's calmest moment, and easiest listen, and an indictment of Super Slimey as a whole.
Like Kanye West and Jay-Z's Watch The Throne or Future and Drake's What A Time To Be Alive, Super Slimey exists as two entities standing besides each other, with one overwhelming the energy of the moment. Slimey is very much a Future album, with a dozen guest appearances from Young Thug. It feels like Thug has entered Future's world, landed on production tailor-made for Future, and found a comfortable space to exist there.
Because of that, Future owns the moment, it's a home game for him, and feels like the Floyd Mayweather-Conor McGregor rumble from earlier this year: Yes, Conor was able to hold his own because boxing is a close enough arena to what he's most comfortable with, but eventually Mayweather's prowess won out. Thug's performance is commendable, as he's able to keep up with a living legend in his comfort zone, but as the album goes on — and especially on Future's rambunctious solo efforts "Feed Me Dope" and "4 Da Gang" — the victory becomes clearer and clearer as the sound becomes more distinctively defined as Future's.
Contrast that to the more organic synthesis of creating a wholly new entity, like Thug and Rich Homie Quan's Rich Gang Tha Tour, or Big Sean and Jhene Aiko's TWENTY88 and Lil Wayne and 2 Chainz's Collegrove. Neither is better or worse than the other, but with Rich Gang you got a Rich Gang album and similarly to this record, What A Time felt like a Future album with guest appearances from Drake.
Which is not to say Super Slimey is a bad album, it's quite good in fact. But it feels a lot like Thug's personality and out-of-left-field sonic identity was curtailed a tad to make room for Future's overwhelming presence. If Future doesn't take up more airspace than Thug on the album, it certainly feels like he does, and right from the gate two Future verses sandwich a brief stanza by Thug on the album's opener "No Cap."
Surely, Thug was happy to make that sort of artistic sacrifice, as he's sure to get the same kind of commercial rub from Future that Future received from Drake two years ago with What A Time. It may be the bump he needs to secure his first-ever No. 1 album and to make that daunting leap from burgeoning star to actual star. If it doesn't push him into the next stage of his career and raise his profile, Thug at least went toe to toe with Atlanta's current King and came out stronger for it.
For Future, it's a sharpening his steel kind of moment as he proved his mettle next to one of the most exuberant and overwhelming sonic personalities in rap's current landscape. Eventually, it'll settle right in the middle of his stellar 2017, resting between HNDRXX and Future as a perfectly fine album from the man who bumped shoulders with giants like Jay-Z and Kendrick Lamar and still forced his way into album of the year discussions.
In the end, Super Slimey is a perfect barometer of just where Thug and Future are in their respective career arcs. For the 26-year-old Thug, who still has plenty of room to grow both artistically and commercially, it's his best offering of the year, a supersonic burst of effervescence over hyper-speed production. For 33-year-old Future, at his artistic and commercial peak, it's a middle-of-the-pack offering that looks easy for him, like a casual stroll into his comfort zone.
With Thug and Future separate, the tradition of exciting and intriguing Atlanta rappers remains as strong as ever, but putting them together displays how impactful and trendsetting they truly are. At its most basic, Super Slimey is a trap album, yes, but it's the trap album where the trappers have seven-car garages, run out of room, and effectively leveled the genre up. Even at just 41 minutes, it feels like the beginning of the next trend out of Georgia's hit-making epicenter, a series of charismatic and sprightly lyrical dances through dynamic and lurid Atlanta-based production — all in fifth gear with the pedal to the floor.