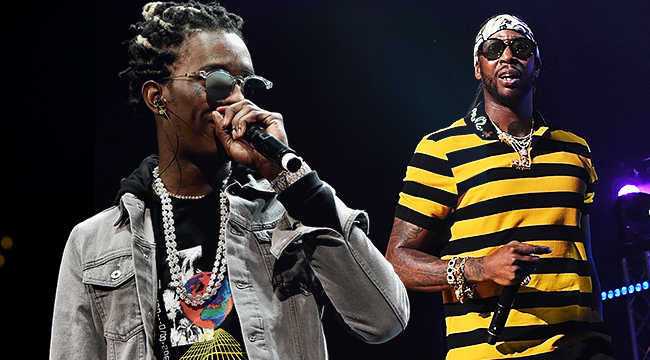 This last week was a historic moment on the album charts. Lorde not only notched her first No. 1 album ever with Melodrama, but for the first time in five years, three different female artists managed to supplant each other at the top spot in three consecutive weeks. Halsey earned a No. 1 slot with her millennial pop triumph Hopeless Fountain Kingdom, which was followed by Katy Perry's Witness, and then Lorde (SZA also deserves a shoutout for a No. 3 debut for her stunning release CTRL). Underneath that impressive feat however, something else was happening that most people didn't really notice. The surprise album drop era came to an end.
One spot below Lorde on the charts, was 2 Chainz, who released what I, and many other people consider to be the best work of his entire career Pretty Girls Like Trap Music. In what was almost an incredible upset, the artist formerly known as Tity Boi came just 3,000 units away from besting the Kiwi singer, selling an impressive 106,000 equivalent album copies in a single week. It's a staggering achievement, no question, and a sure marker that your favorite rapper's favorite rapper has finally arrived in the mainstream.
The same could not be said about the other major hip-hop artist who dropped a new album this last week. No, I'm not talking about Big Boi, though Boomiverse is a solid entry into his catalog, I'm referring to Young Thug, who surprised the world with his self-proclaimed "singing" album Beautiful Thugger Girls. Thugger's last album Jeffrey was a triumph in almost every sense, one of the best hip-hop releases of 2016. It really seemed that he was gearing up for a commercial upswing with whatever he decided to drop next. That didn't turn out to be the case. When final numbers were tallied, Beautiful Thugger Girls managed to sell only 37,000 units, barely making it into Billboard's Top 10. It's hard to believe he'll remain there this coming week.

What's really interesting about the disparity between 2 Chainz and Young Thug commercial performance is the entirely different ways that both rappers went about releasing their albums. Chainz has been slow-rolling Pretty Girls Like Trap Music for months. He's posted a series of curated playlists put together by some of the biggest names in the genre, like Nicki Minaj for instance. He dropped singles ahead of the release itself like the bouncy "4 AM" featuring Travis Scott. He posted clips to his Instagram account featuring Drake giving him mad amounts of love. Even the most casual raps fans understood Chainz was dropping something in June and all your favorite artists seemed very excited about it.
Contrast that with Thugger. Outside of a few cryptic tweets, and a shockingly violent trailer, Beautiful Thugger Girls was a complete surprise. His most die-hard fans figured it was coming, but in the world at large it got swallowed up amid one of the most stacked weeks for new music we've probably seen thus far in 2017. Though there were many mitigating factors that led to Thugger's less-than-stellar performance, it really seems that he kneecapped his opportunity to dominant the conversation and show out in the sales space by failing to give his latest project time to generate buzz.
That's the name of the game now: generating buzz and creating conversation. It's the only currency that really matters in an age where most music is consumed in an online arena. Make no mistake, the act of listening to and critiquing new music has become an almost performative art form. No one wants to be left out of the zeitgeist. There was a time when the surprise release could generate that kind of buzz. Beyonce ushered in that era back near the end of 2013 when she shocked the world and dropped her self-titled album. Automatically, the talk of social media became all Beyonce, all the time. Her genius for song creation was eclipsed in the minds of many by her genius for marketing. Beyonce was quickly followed by other successful big name surprise album releases like Drake's If You're Reading This It's Too Late and Frank Ocean's Blond(e). But even about a year out from Frank Ocean, the juice seems to have gone out of the move.

Look no further than Beyonce's husband Jay Z for evidence that the extended rollout campaign has made a stunning comeback. While the publicity drive ahead of 4:44 has been non-traditional to say the least — a series of cryptic billboards placed in Times Square, internet ads, and NC-17 rated movie trailers — the world at large seems to be very excited to hear the latest from Hov in a way that's kind of surprising. Following the release of Magna Carta Holy Grail the word on the streets was that Jay was washed. Time, combined with a mystifying album rollout where the man himself has remained invisible, has done wonders to change that perception. If he had just dropped a new album, the Jay stans surely would've been stoked, but would the larger buzz been as big? I don't know.
What I do know is this: Attention spans are only becoming shorter and shorter. The window of opportunity for artists to claim the moment is becoming smaller and smaller. It simply doesn't make sense anymore to try and surprise the world with an album you've poured your heart and soul into, only to give that project a week, maybe two to be discovered, picked apart and poured over. Now, there are cases where it can go the other way, and an elongated, messy rollout can turn the tide against an album like Katy Perry's Witness or Drake's Views, but neither of those records really suffered in a commercial sense. They were savaged by many online commentators, but hundreds of thousands of people still went out and either bought or listened to them.
Unless you're someone like Beyonce or Kendrick Lamar, it seems like the surprise album drop has effectively gone the way of the eight-track tape player. It's a relic of the past. People will still try and use it, and their financial fortunes will take a hit as a result. What was once old, is new again. See you at the record signing event and the release party.