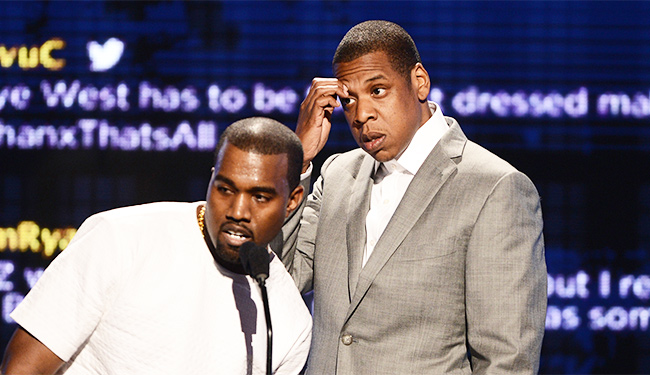 Kanye West putting his rift with Jay Z out on front street at his Saint Pablo Seattle show is probably why the frenic producer no longer finds himself in Jay Z's inner circle. During 2010-2012, "Big Brother" Hov and "little brother" 'Ye were unstoppable as The Throne, dropping the wildly successful Watch The Throne and following it up with a high-grossing world tour. It was a dream come true for Kanye, who always had a sort of weird admiration for Jay that teetered between idolizing and Single White Female.
Related: Jay Z Says He 'Misses The Old Kanye' Following West's Recent Rant
But what if Jay Z and Kanye West's bromance was really just all in Kanye's head? What if Jay Z was nothing more than a close work friend despite Kanye's devotion to The Carters?
2000 — Pre-College Dropout Era
Kanye is desperate to prove to idol Jay Z that he's also a talented rapper, something Jay isn't really trying to hear. "Let's at least sign [Kanye] so we can keep the tracks in-house," Jay recalled saying in a 2009 XXL interview. Cam'ron later claims Jay straight up ignored Kanye when the producer was "rapping his heart out" to the mogul.
Jay would eventually come around and Kanye would blow up into superstardom.
September 2007
Kanye records the Jay Z tribute "BIg Brother" where he also airs out his big homie for stealing his idea and working with Coldplay. "I told Jay I did a song with Coldplay/Next thing I know he got a song with Coldplay/Back in my mind I'm like, 'Damn, no way'," he rhymes. In actuality, Jay's "Beach Chair" predated Kanye's "Homecoming." Jay would later credit himself for introducing Yeezy to Coldplay frontman Chris Martin.
June 2009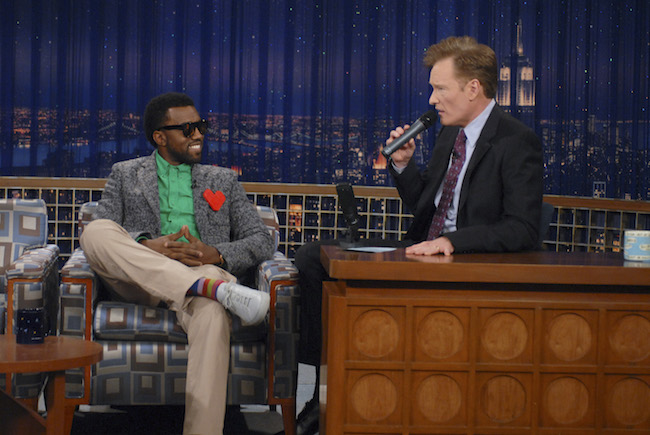 Jay Z shades Kanye's love of Auto-Tune with "D.O.A (Death of Auto-Tune)" and shades 'Ye's fashion choices with "D.O.A" lyrics, "You n*ggas jeans too tight, your colors too bright, your voice too light." Pretty ballsy of Jay when the track was co-produced by a tight jeans-loving, colorful clothes-wearing Kanye. The funny thing is Kanye adlibbing "that's too far" after Jay's lyric.
September 2009
Kanye interrupts Taylor Swift's MTV Awards acceptance speech to declare Beyonce's "Single Ladies" one of the best videos of all time.
December 2011
Kanye West begins secretly dating Kim Kardashian after the star divorces Kris Humphries following 72 days of blissful marriage.
July 2012
Jay Z and Beyonce and Kim and Kanye attend the 2012 BET Awards. Jay and Kanye appear to be the best of friends while Jay and Beyonce barely acknowledge Kim Kardashian's existence. Deliciously awkward.
February 2013
Kanye publicly disses Justin Timberlake and Jay Z's "Suit and Tie" during one of his streams of consciousness. "I got love for Hov, but I ain't f*cking with that 'Suit & Tie'," he says. Kanye would later say he recieved Jay's blessing to diss him, telling WKYS 93.9, "Jay understands that this is my voice, and it's very necessary."
July 2013
Kanye and Kim reportedly invite The Carters to their baby shower. While both are no-shows, Jay and Bey reportedly gifted Kimye with $7,500 worth of baby swag.
October 2013
Kanye proposes to Kim in front of family and friends at San Francisco's AT&T Stadium. While Kanye's Chicago buddies are present for the magical moment, Jay Z and Beyonce are not.
May 2014
Kanye reportedly asks Jay Z to be his best man at his wedding while rumors spread that Beyonce would rather stay home, playing Connect Four with two-year-old Blue Ivy.
June 2014
KimYe ties the knot in a lavish ceremony attended by 200 guests, none of which are Jay Z and Beyonce. To quiet rumors of her attendance, a fresh-faced petty Bey posts an Instagram picture from her Hamptons home.
June 2014
Kanye omits the Jay Z references on "Blood on the Leaves" and "Cold" during his X Games performance.
July 2014
Kanye responds to Jay Z and Beyonce missing his wedding by telling GQ that it didn't matter "because the most important person to show up there was Kim."
January 2015
Kanye reunites with Jay Z rival Dame Dash. The former Roc-A-Fella CEO presents Kanye with the "Honorary Visionary" award with a sincere, yet shade-filled introduction speech.
March 2015
https://www.instagram.com/p/0tOcePwy6E/
Kanye gets in deeper with Dame Dash, who never stopped sending shots at Jay. In an awkward Instagram video that makes Kanye look like he's being held against his will, Dame announces his plans to purchase Karmaloop with Kanye because "honorable people stick together."
March 2015
Jay Z, along with 15 other artists, including Kanye West, launch Tidal streaming service. Kanye tweets about Tidal and turns his avatar in support of Jay's new venture. Then scrubs his Twitter clean of all Tidal mentions only to tweet out, "The love of music is louder than words."
June 2016
Kanye tweets and demands Apple to "cut a check" and buy Tidal.
October 2016
Kanye rants about Apple Music and Tidal being on some "bullsh*t" while also revealing that Jay Z never personally visited him after Kim Kardashian's Paris robbery. The 39-year-old hitmaker also reveals that North West and Blue Ivy have yet to have a play date.
Page Six sources claim Jay Z "can't stand" Kanye and can only "tolerate him in small doses." The source also claims the two did Watch The Throne together because it was a great opportunity for Jay to line his pockets with cash. "There was so much money to be made," says the source. "Jay was like, 'I'm gonna knock this out. We're going to do a tour to bring in millions of dollars. I can tolerate that.' "
It seems like Jay and Kanye's relationship really took a tumble when Kanye married celebrity sextape sar-turned-reality star Kim Kardashian. The Carters are notoriously private while The Wests revel in media attention and their celebrity status. Or, maybe Jay doesn't have any real use for Kanye anymore. Who really knows.