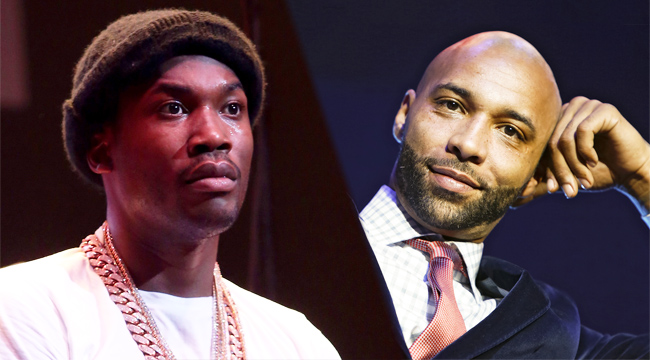 Joe Budden still isn't over Meek Mill siccing his famous girlfriend's fervent fans on him after Joey said Meek had gotten soft since dating Nicki Minaj. During an episode of his I'll Name This Podcast Later podcast last year, the Jersey rapper joked that Meek's music was "too hard" for him to "look at Meek with this f*cking sappy f*ck sh*t." The comments led to Meek tweeting "Get em barbz" after clapping back at Joey with taunts about the "Pump It Up" rapper being washed up. Again, this all happened a year ago, and it still isn't over because, like the Internet, Joe Budden doesn't forget.
This week, Mouse tweeted "F*ck Meek." in response to a fan and revealed he still isn't over the Philly rapper's "Get em barbz" tweet. When another fan asked why he was still upset over it, Joey replied, "I have issues when celebs throw stones & hide behind fans, I haven't forgotten that's all." And Meek Mill hasn't either.
While you were drooling a small puddle on your pillow early this morning, the "Monster" rapper seemingly responded to the resurfaced beef on instagram, posting:
Petty n*ggas wanna mention my name to get acknowledged …. Hoping I react like a fool and give em violence…. I rather kill em wit success and give em knowledge…. Before I throw it all away for a sucka cuz we the hottest… My momma crib big as a church,I'm being modest…. No sleep putting in work that's how she got it!
A huge step up from "get em, barbz!" TBH. Whether this will lead to actual diss tracks remains to be seen.