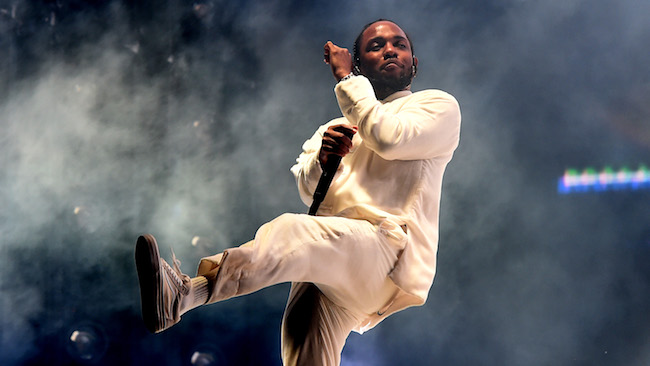 On the third day of Coachella there are only scant vestiges of the optimism and innocence of the first day of the festival. The grounds that were once covered with beautiful and vibrant green grass have been trampled into a fine mixture of dirt, dust and gravel that dirties everything it touches. The massive, colorful structures that doubled as art have gradually become beacons for stragglers who strayed away from their group and need to meet back up, and rest stops after aching backs, feet and everything else simply need a place to sit, lean, lay or sleep.
The wide-eyed festival-goers that skipped into the Empire Polo Grounds on Friday have developed into dreary, exhausted, music chasing zombies on Sunday. That's the battle that Kendrick Lamar had to tackle at 10:35 PM on that final night to close out the first weekend of the festival, and that's the battle the wunderkind from Compton conquered. His 80-minute headlining set was the culmination of a series of events that marked his return to the music world's consciousness last month that originated with a simple, since-deleted Instagram post of a roman numeral.
From there it was a whirlwind of new singles, supposed release dates, cover reveals, tracklists, feature reveals, confirmed release dates, incredible music videos, debates about said music video and eventually a new album. Now it was time for his victory lap, and when he arrived it was with a literal explosion that sent a plume of smoke into the air that lingered long after the short Kung Fu Kenny film began to play.
Kendrick's set was a mix of art, theatrics, skill, high-quality production and next-level precision. The visuals were meant to stimulate a crowd of 120,000-plus, and project a few football fields away, but they were also meant to accentuate K. Dot and make him even larger than life than he already is. While the massive screens dwarfed him, the lighting also silhouetted him onto those massive screens, painting the illusion that he was up there alone with just his microphone and his innate and uncanny skill. Besides the explosion to start the show he didn't rely on spectacle, instead he made himself the attraction and he was a spectacle in and of himself.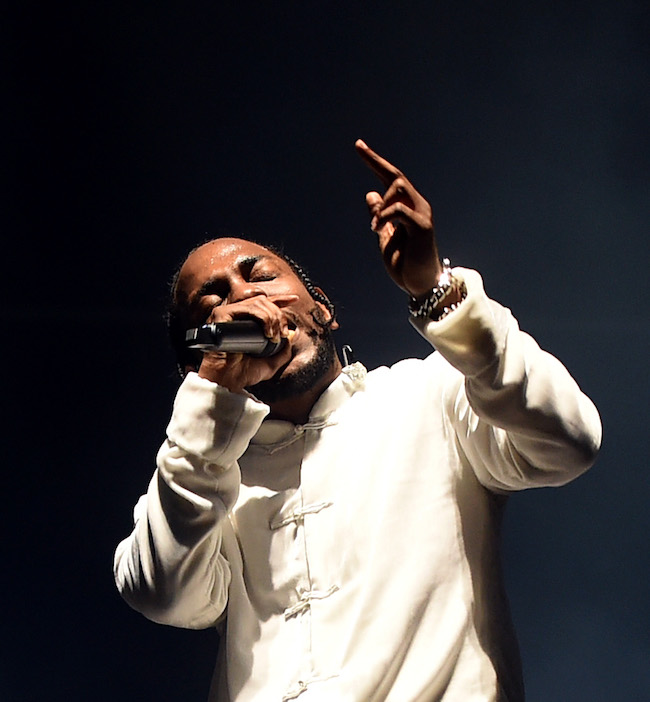 For the first third of the show Kenny did so alone, with the band tucked behind the stage and only a solitary ninja joining him on stage. Eventually he invited guests Travi$ Scott, Future and Schoolboy Q in on the fun, with the latter two butting in to perform their own tracks and Q maybe flubbing his performance and exiting early while the crowd watched, bemused.
By the time Kendrick resurfaced in a cage in the middle of the crowd whatever happened during Q's performance of "That Part" was forgotten as K. Dot snatched the crowd right back by ripping through "FEEL" and good kid, m.a.a.d. city's classic "Money Trees." By that time Pharrell, decked out in a you-can't-miss-it Yellow hoody and white sunglasses had joined the who's who crowd of VIPs in the audio/visual section to watch Kendrick firmly place his stamp on the weekend.
Beyond the guest appearances, Kendrick carried the load himself, delivering the type of performance that solidifies one's status as a major attraction level performer and places you into the echelon known as Stadium Status. Now, commercially and artistically, Kendrick is amongst the elite in the music world, with a main-stage, Coachella headlining set under his belt and a catalogue of hailed material to back up all of the hype.
The set eventually did end with a whimper, but not for lack of trying from Kendrick. He was dealt a bad hand, shipping out his latest album DAMN. on Friday, as most of the attendees were either en-route to the city or already in the middle of the desert, devoid of cell-phone signal or Internet service, thus never getting the chance to fully experience and grow to appreciate the album or learn its lyrics and sonic quirks. So as he bellowed out "GOD" or the night's encore "LOVE" most just watched, in awe and stoically. While fans at home watching a stream of the performance appreciated the renditions of the new material, the crowd at Coachella was indifferent, not quite sure what to say, when to say it or how to react to the new track's musical cues.
He killed it, even if the crowd didn't. The best shows are a harmonious and exquisite union between performer and attendee, and for most of the show it was exactly that, the excitement was palpable and pronounced when Kendrick leapt into more familiar hits like "Alright" and "King Kunta," but it was lacking when he presented new sounds they were unaccustomed to. The muted crowd was more of a result of unfamiliarity, exhaustion, depleted "resources" and a long ass weekend in an actual desert that was finally coming to an end than anything Kendrick did or didn't do.
Despite the Coachella crowd's uneasiness with the material, with DAMN., Kendrick has returned with another opus, and further solidified his spot as the genre's — if not the industry's — foremost album maker. Like each of his albums before it, there is a near masterpiece on the surface, and a revelatory experience once the layers are unfurled and the listener begins scratching and rummaging below that pristine facade. Some have surmised that the album is best when heard backwards, playing out like a story of damnation. "Duckworth" is his origin story and from there he finds God, learns fear, comes to grips with the harsh X-Rated realities of the life he was born into, finds love, experiences lust, is humbled, begins to have pride, develops loyalty, struggles with his faith, diverges from his faith altogether and then seems to get back on track.
Ultimately, he pays for his sins, be it at the hands of his favorite metaphor Lucy, or, as some have suggested, a blind, mumbling, confused and lost hip-hop. It's a scintillating journey, and much more approachable than To Pimp A Butterfly, and it seems maybe Kendrick has found a happy medium between looking to make grander artistic statements and producing easily digestible material for more casual listeners.
"FEAR" may be the album's most chillingly relatable track. It's there Kendrick unloads line after line of his actual fears at different points in life. The first verse is a series of warnings from his mother bouncing around his head, and much like the rest of the song it reeks of PTSD rearing its ugly head in his psyche. In the second verse he laments on the constant paranoia and solemn and unsettling comfort with death he experienced as a teenager. The verse comes with the constant, monotoned and mostly desensitized to violence and death refrain "I'll prolly die," before listing off the numerous and often fickle reasons 17-year-old Kendrick could suddenly lose his life, ranging from the colors of his clothes to overzealous police. Finally, he bemoans one final, especially morbid and frightening belief: "I'll prolly die 'cause that's what you do when you're 17."
The worst part is Kendrick is not alone in that belief. This is the mindset that entire generations of men of color had lived with, believing there are no other options, and that early death as the result of the circumstances in front of them is inevitable. The fact that he delivers the entire passage matter-of-factly, and almost as a series of afterthoughts makes it even more triggering, and sadly relatable.
In the final verse, he discusses his now adult fears, the type of concerns and insecurities that everybody has come across at some point. "When I was 27, I grew accustomed to more fear, accumulated 10 times over throughout the years" he blurts, now with a more pronounced delivery. Now, a success and with the money and security he so actively sought to escape his previous fears he isn't comfortable or past fear, instead he's developed entirely new fears to accompany his new situation. "My biggest fear was losin' it all," he worries, before adding "Scared to go back to Section 8 with my mama stressin'." It's contradicted only a few bars later with "At 27 years old, my biggest fear was bein' judged."
Following those admissions, Kendrick unleashes one of the most impressive lyrical displays of the album, doubling down on more fears that coincide with the album's song titles and coming back to tidy the entire refrain up.
I'm talkin' fear, fear of losin' creativity
I'm talkin' fear, fear of missin' out on you and me
I'm talkin' fear, fear of losin' loyalty from pride
'Cause my DNA won't let me involve in the light of God
I'm talkin' fear, fear that my humbleness is gone
I'm talkin' fear, fear that love ain't livin' here no more
I'm talkin' fear, fear that it's wickedness or weakness
Fear, whatever it is, both is distinctive
Fear, what happens on Earth stays on Earth
And I can't take these feelings with me
So hopefully they disperse
Within fourteen tracks, carried out over wax
Searchin' for resolutions until somebody get back
Fear, what happens on Earth stays on Earth
And I can't take these feelings with me
So hopefully they disperse
Within fourteen tracks, carried out over wax
Wonderin' if I'm livin' through fear or livin' through rap
It's all sobering, as the paranoia that has often lived in Kendrick's music is plopped down on the table, on full display for the world to suffer through with him. It's painful, both in viewing his own pain but also in reflecting on your own, and that's the great magic trick he's pulled in those six minutes. In a sense — on Good Friday and Easter Sunday no less — Kendrick sacrifices himself and his own fears for the cathartic feeling that is finding someone or something to relate to and realizing that though your plight is painful, and terrifying, it can be overcome and you're not alone.
It's the realization that Kendrick is simply one of us, almost exactly like us, and that makes his ascent to superstardom that much more satisfying. This is what makes the album so resonant, but also what makes it agonizing at times. Feeling the same pain, seeing the same plight and having the same fear as K. Dot is what makes the fact that he just headlined Coachella, with equal billing of superstars like Lady Gaga, Beyonce, Radiohead and more even more amazing. Kendrick had the same fears as me as 7 years old, the exact same disturbing fears at 17 and the exact same paralyzing self-doubt and fears at 27. Kendrick isn't just one of us, or like us, or relatable, he is us.
And he just dropped another transcendent album and tore down Coachella.
Damn.