I wasn't supposed to be in New York this week. Due to unfortunate circumstances, I was on the first flight out of Michigan, but only landed at home in New York after 25 hours of delays. I was home for personal reasons, and I didn't think I'd have the energy or patience for any shows. Then, on Wednesday night, it was revealed that Kendrick Lamar would be performing a American Express-sponsored secret show at Music Hall of Williamsburg on Friday. To clarify, one of the biggest hip hop artists in the world — who performed in front of tens of thousands the previous July at the inaugural Panorama Festival — would take the stage on a freezing December night to play for a crowd of 400. And with a stroke of incredible luck after a week that revoked my belief in such a thing, I was granted the opportunity to cover it.
Part of the show was to be live-stream simulcasted via Facebook live, so camera crews and massive audio boards were strewn across the tiny club when I walked in and took my place in the crowd directly to stage right. The room was cast in a hazy blue as fog machines lightly coated the stage in mist, and the crowd was clearly mostly industry personnel: people who made the show happen from American Express and Top Dawg Entertainment running around making sure everything was in order, label jocks talking about their sick holiday party, and writers there for coverage, taking notes on their phones.
As people got through pat-down security and filed in, I looked to my immediate left to see Ali Shaheed Muhammad of A Tribe Called Quest in front of dual turntables spinning tracks to get the crowd excited for Kendrick. I overheard someone say that the sold-out show had only moved 190 tickets to fans, with nearly 200 other people on the guest list. Then Muhammed's track faded out, the lights went down, and the collective cell phones of the crowd went up in the air.
Kendrick's backing band the Wesley Theory took the stage to roars of approval, then launched into the warped opening bars of "untitled 07 levitate," before Kendrick bounced out on stage, taking in the tiny crowd. It wasn't long before he took time to note that he hadn't performed for a crowd this intimate since before the release of good kid, m.A.A.d city , high-fiving the people in the front rows, and thanking everyone in the crowd that had been with him from day one.


The setlist didn't vary much from his other American Express-sponsored performance at Miami's Faena Art Dome earlier in December, mainly showcasing cuts from good kid and To Pimp A Butterfly, as well as a few cuts from untitled unmastered. However, there was one large exception.
"If somebody here said that they rhyme, they were challenging me," Kendrick said with a smile. In a room so small, it's easy for performers to overhear things said in the audience, and Kendrick was up for a competition, looking into the faces of everyone in the crowd to see if anyone was game. Finally, someone raised their hand, and Kendrick invited him onstage, handing him a microphone and sitting down on the drum riser. That said, it wasn't long before the guy proved he had literally nothing to say and was quickly booed offstage.
But Kendrick wasn't done. He pulled another guy onstage, this time from the other side of the venue, and headed back toward the drum riser. But as the Wesley Theory dropped a beat and the audience member began to spit freestyle rhymes, Kendrick stepped back toward center stage, looking impressed. Soon, the duo were trading lines seamlessly, as if they had rehearsed prior, finishing their "battle" with a hug, and leaving the entire crowd floored.
Kendrick pulled one more audience member up, who opted not to challenge him, but instead asked to do something a capella for the crowd. Kendrick welcomed the break, and sat back down on the riser, gesturing the audience member to take center stage and say anything he wanted to say. The a capella was short, and sweet, but spoke some truths about the reality of being a black youth in New York City. "That guy's saying some real sh*t," Kendrick said as the audience member, who revealed his artist name to be Kemba handed the microphone back over, and returned back to the side of the stage. In a room full of Top Dawg Entertainment executives, I wouldn't be surprised if we heard a lot more from the two latter audience members.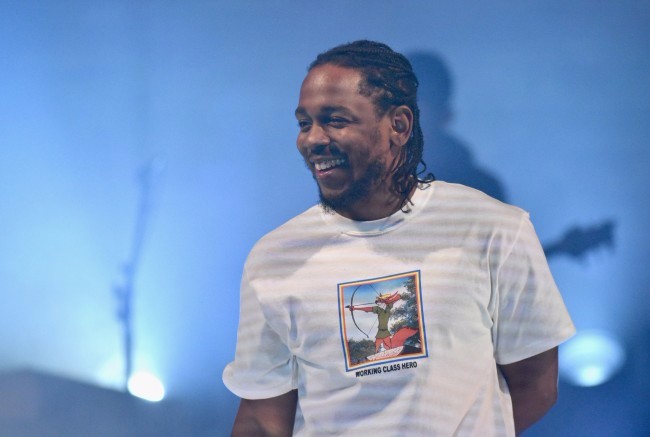 Kendrick was all smiles as his main set closed out with the "King Kunta" and "Alright," the two biggest hits from Butterfly, and the crowd bounced for nearly ten minutes straight. He thanked everyone for coming, walking offstage to chants of his name as the livestream ended.
After a few minutes, and confirmation that the livestream was over, Kendrick reemerged after his time was up for two more songs: Section.80's "A.D.H.D." and "i," the positive affirmation that all but closes out Butterfly. As he encouraged the crowd to jumped around, I looked around the venue and took in the overwhelming joy on everyone's faces. Turning back toward the stage, I locked eyes with one of the biggest artists in the world as he came toward stage right.
When Kendrick Lamar looked me right in the eye in front of 389 other people and sang "I love myself," I knew that, despite the events of the last week, everything was going to be ok.
Check out the livestream of the last 30 minutes of the main set below, featuring the aforementioned rap battles "Money Trees," an extended version of "m.A.A.d city," "King Kunta," and "Alright," below via Kendrick's Facebook page.