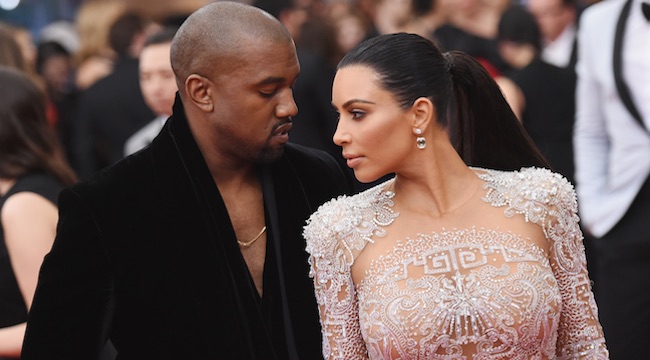 Following Kanye West's recent hospitalization, and the canceling of his Life Of Pablo tour, Kim Kardashian has been by his side. But today Us Weekly reports that Kim is going to be seeking a divorce from the rapper in the near future. This is just speculation from an unnamed source, as usual, but following her own traumatic experience when she was robbed in Paris, this has certainly been a tough year for the World's Most Talked About Couple.
According to the source, Kim "is being very protective and doesn't want Kanye around the kids right now," and though she won't make any decisions until after West has healed, "she's felt trapped for a while." More from their source: "She's being a supportive wife and she cares about Kanye and feels relieved he's getting the help he needs." People has also noted that the couple have not been living together during Kanye's outpatient care following his hospitalization.
But People's source has a much more optimistic take on the situation:
"Kanye isn't at home with Kim and the kids. He is instead receiving outpatient care elsewhere with a medical team. Kim still seems concerned but is supportive. They don't know for how long Kanye will need outpatient care. There are frustrations and problems, like any relationship, but they love each other deeply."
The night Kanye was hospitalized, Kim had flown to New York for what was slated to be her first public appearance following her robbery in Paris, but after hearing the news about Kanye she turned right back around to be by his side at the hospital.
While some rappers have taken advantage of this low moment to seemingly fire shots at Kanye, others, like Chance The Rapper have extended support to him. No official comment from Kanye or Kim has been made on the status of their marriage.