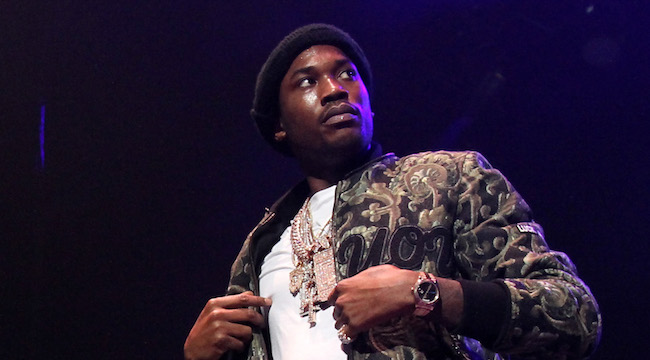 In the past few weeks, we've heard a lot about the actions of the judge, officers and court officials involved in Meek Mill's probation nightmare – but now we have an update about what Meek and his legal team are planning to do about it. Spin reported that Meek Mill's legal team has placed a request for the rapper to be released from jail on bond due to what they allege is false testimony by a police officer during his 2008 trial. Meek's team filed the Post-Conviction Relief Act petition because Officer Reginald Graham, the sole witness on the 2008 drug and weapons case that he's still on probation for, is on a recently-exposed list of police officers who can't be considered credible witnesses.
The list was constructed by prosecutors on Philadelphia's Police Misconduct Review Committee. It was uncovered by the Philadelphia Inquirer. Officers who had a "history of lying, racial bias, or brutality" have been blocked from testifying in court, but Meek's legal team has never been made aware of the list or Graham's place on it. Inquirer sources say that current Philadelphia District Attorney Larry Krasner believes "the list (of two dozen officers) represents an extremely limited snapshot of the problem of police misconduct on the 6,300-officer force."
Years ago, several Philadelphia Police Officers were found to have been framing people for crimes and stealing their drugs. The DA's office dropped over 800 cases and freed many more behind the tainted circumstances of their prosecution. The same thing could potentially happen for Meek and other incarcerated people with the exposal of this list.